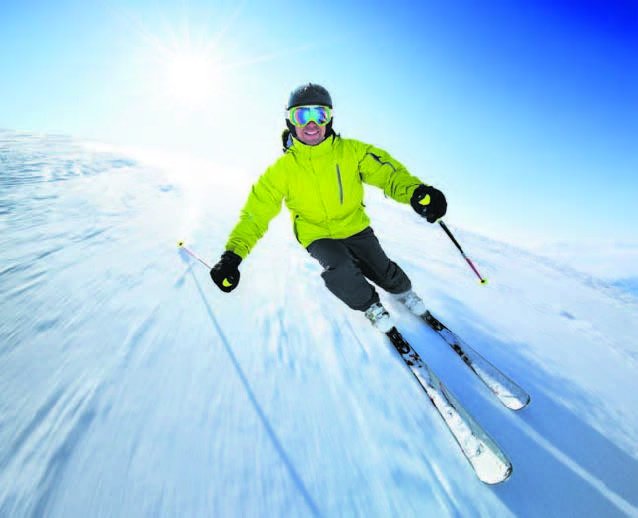 Compiled by Holly DeCarlo-White
USAG Stuttgart Public Affairs Office
Snow is falling in the Swabian Alb
There are some great skiing and snowboarding areas in Germany — many just a short drive or bus ride from Stuttgart. Whether it's Garmisch-Partenkirchen, the country's best known ski resort, or Obertsdorf, featuring Germany's longest downhill slope, or the Black Forest's Feldberg area, Germany's biggest ski resort outside of the Alps,  Stuttgart military community members who want to participate in winter sports have plenty of options. Even better, those options extend to the convenience of pre-arranged ski and snowboard trips through several on-base organizations.
Organized Ski and Snowboard Trips
Family and MWR's Outdoor Recreation offers day and weekend trips to ski areas in Switzerland, Austria and Germany. Winter sports enthusiasts can experience a variety of locations, runs, trails and apres-ski activities. Most all trips are available for all ability levels, and also offer a variety of activities for people who don't ski, such as sledding, ice skating, hiking or spas.
Outdoor Recreation also offers day, weekend and weekly ski and snowboard rentals (with discounted prices for those on its trips), as well as ski and board tune-ups and repairs, and lessons on select trips.
Patch Ski Club
The Patch Ski Club offers many organized trips to get outdoors throughout the year for skiing and snowboarding, mountain biking, golfing, music festivals, wine tasting, river rafting, and more. The Patch Ski Club is a private, non-profit organization open to all U.S. ID cardholders regardless of ability level.
For more information about the club and upcoming trips, visit www.patchskiclub.com.
Skiing for teens
The Sitzmarkers Ski and Snowboard Club is a club for teens grades 7-12 in the greater Stuttgart military community offering trips to learn and develop skiing and snowboarding skills, learn safety, and leadership skills. Teens can register at the Sitzmarkers meetings held in the Religious Education Center, Building 2332, Patch Barracks.
For the schedule of meetings, registration and more information about Sitzmarkers, visit www.sitzmarkers.org.
Skiing venues in Baden-Württemberg
For skiers, the German region of Baden-Württemberg is a veritable winter wonderland. It is home to more than 300 ski lifts and 90 kilometers of slopes an average of 977 meters long.
Black Forest and Swabian Alb
Most ski lifts in Baden-Württemberg are situated in the southern part of the Black Forest and the Swabian Alb. Visitors will find many different slopes that vary in length and difficulty, affording all types of skiers with a run that's right for their level of expertise.
Feldberg
At the Feldberg, in the southern part of the Black Forest, slopes are even rated at the World Cup level. The mountain is normally open from November to April, and sometimes extends opening dates if temperatures remain favorable. The Feldberg ski area operates 28 lifts on 50 kilometers of slopes at an average of 100 days per year.
During peak snowfall, the snowboard fun park at the bottom of the Seebruck offers two tables with two kicks each, as well as a selection of rails, jumps and jibs.
Located near the Feldberg area, the Seebruck, Grafenmatt and Fahl Alpin resorts, home to 25 kilometers of slopes and 12 lifts, offer one all-access pass.
The Fahler ski lifts are the highest in the Black Forest. Here, the slopes play host to the Fédération Internationale de Ski and World Cup races.
In Altglashütten, Falkau and Neuglashütten villages around the Feldberg, family-friendly lifts service 3.9 kilometers of groomed slopes. The ski areas of Feldberg, Menzenschwand, Muggenbrunn and Todtnauberg (with an alpine station and 13 kilometers of sunny slopes) have joined together to provide a combined lift ticket.
A seated ski lift at Seebruck is available especially for snowboarders and, depending on the snow conditions, offers specific boarder slopes with two kickers and three rails. The snowboard school Schneebrett is on site to supply tips and tricks.
A shuttle bus service brings skiers and boarders from the Bahnhof Titisee and Bahnhof Bärental to the Feldberg. The shuttles run every 30 minutes from 9 a.m. to 5 p.m. daily between December and April, including weekends, holidays and school vacations. From the Bahnhof Todtnau, the shuttles run every hour.
For more information, visit www.liftverbund-feldberg.de.
Belchenland (Belchen region)
Perhaps Baden-Württemberg's best-kept secret is the Belchenland (Belchen region), which guarantees snow throughout the ski season. The Belchenland, located in the southern part of the Black Forest, is a scenic alternative to the hustle and bustle of the busy Feldberg region. Not far from the Feldberg and with an elevation only slightly below it, the Belchen offers a wide variety of winter sports.
Belchen
The Belchen ski resort is located between the Belchen mountain (1,414 meters above sea level) and the Feldberg (1,493 meters). This winter sport area with the highest likelihood for snow in the German Mittelgebirge (mid-range mountains) is a major attraction for snow enthusiasts.
Almost 30 kilometers of groomed slopes and 10 ski lifts invite visitors to take their pick of downhill or mogul runs. The Belchenlift (a cable cabin) bring skiers up to almost 1,400 meters.  The Hornlift in Fröhnd, not far from the Belchenlift, is one of the longest lifts in the Black Forest.
From atop of the Belchen, visitors can enjoy a 360-degree panoramic view. While in the area, they can also try the ski jump ramp in Multen. The center of alpine sports in the northern part of the Black Forest is located along the Schwarzwald-Hochstrasse (Black Forest High Road).
At about 600 to 1,100 meters above sea level, skiers will find 20 ski lifts, most of them equipped with floodlights, since ski slopes are open until 10 p.m. Three of the favored slopes are the Ruhesteim with two lifts, Grenzstüble and Unterstmatt with three lifts and a t-bar lift for small children and infants.
Equipment, downhill skis, sleds, cross-country skis and snowboards can be rented at most ski lift stations throughout the valley.
Triberg
Triberg, Schonach, Schönwald, Furtwangen and St. Georgen sport 11 ski lifts in 15 kilometers, up to 750 meters of downhill slopes, floodlights and a combination lift card that allows skiers to use all ski lifts.
Aalen
Situated just above the city of Aalen, at the north face of the Swabian Alb (close to the Limes-thermal springs), you will find the Ostalb lifts. A half-pipe for snowboarders, t-bar lifts and floodlights for night skiing are also available. Albstadt features multiple lifts in the suburbs of Ebingen, including a 630-meter lift and a children's practice lift.
Truchtelfingen's lift is 250 meters, Lautlingen offers a 400-meter lift, Onstemettingen's lift measures 200 meters, and Pfeffingen's lift is 250 meters. Tailfingen's 400-meter "Skilift am Schlossberg" is the first and only International Ski Federation race course of the Swabian Alb.
All of these ski resorts offer varying difficulties of slopes, children's ski schools and more.
For more information, visit www.sport-boerse-aalen.de.