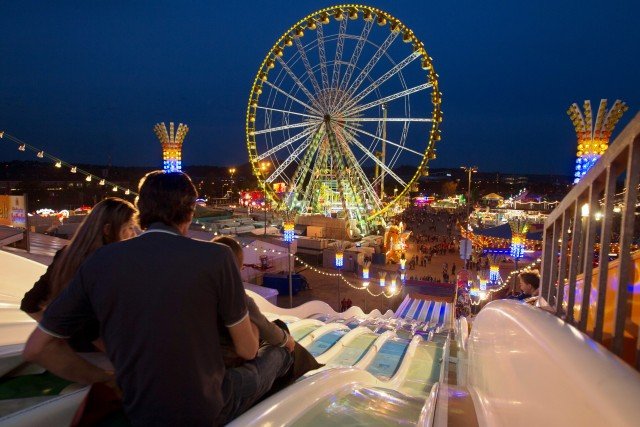 By Carola Meusel
USAG Stuttgart Public Affairs Office
Stuttgart's annual "Frühlingsfest," one of the largest spring fests in Europe, runs from April 18 to May 10 at the Cannstatter Wasen fest grounds in Bad Cannstatt.
The festival offers rides such as wild water rafting, bumper cars, carousels, haunted houses, a Ferris wheel and roller coaster, as well as pony rides and merry-go-rounds for children, according to Jörg Klopfer from "in.Stuttgart," the event organizer.
Adrenalin junkies may also enjoy thrill rides such as the bungee ball, "Alpina Bahn" roller coaster and several other amusements designed to defy gravity, he said.
Besides the rides, the Frühlingsfest also features food ranging from hearty Swabian meals to Asian, Italian and Greek cuisine, along with festival goodies such as cotton candy, chocolate-covered fruit and candied almonds.
Children can partake in free face painting and sessions with balloon artists, while a variety market offers jewelry, leather wear and clothing, fine herbs, spices and tea.
Three beer tents — "Göckelesmaier," "Grandl's Hofbräu Zelt" and "Zum Wasenwirt" — will offer grilled chicken or "Göckele," freshly brewed fest beer and live bands that will entertain the crowds with "Volksmusik," or German folk music, party, country and rock tunes. Each tent also offers a beer garden, where visitors can enjoy food and drinks in the sun.
A reconstruction of a typical Bavarian-Austrian Alp village, the "Almhüttendorf," is set up in the middle of the Cannstatter Wasen fest grounds. It is considered one of the festival's main attractions. Here, visitors can find rustic booths offering "Schweinshaxe" (hambone) or a "Jause," a snack consisting of bread, cold cuts, radishes and cottage cheese. This type of snack is normally served in huts throughout Bavaria and Austria, while people take breaks during hiking trips.
Since the Frühlingsfest is a family-oriented event, special family days are offered every Wednesday (April 22 and 29, and May 6) from noon until 11 p.m. with special offers and discounted prices for families.
"The Frühlingsfest is a fest for the entire family and makes for a great start in to spring during its three week tenure," Klopfer said.
On May 10, the fest will conclude with a 15-minute fireworks show set to music at 9:30 p.m. People can catch a great view of the fireworks show at König-Karls-Brücke, or bridge, adjacent to the fest grounds.
Reservations, hours
Reservations for tables in the beer tents are typically made months in advance. Without a reservation, a visitor may encounter long lines and wait times, and a possible rejection to enter a tent, especially during the weekends.
To see if reservations are still available, visit www.stuttgarter-fruehlingsfest.de, then go to the "Festzelte" tab on the left, select the respective beer tent by clicking on the image, proceed to the tent meister's website and click on the "Reservierung" tab. Information is available in English.
Entrance to the fest is free.
The fest and the accompanying variety market are open Monday through Thursday from noon to 11 p.m., Friday from noon to midnight, Saturday from 11 a.m. to midnight and Sunday from 11 a.m. to 11 p.m. On April 30, the fest will be open from noon to midnight and on May 1 (a German federal holiday) from 11 a.m. to midnight.
For more information on the Stuttgart Frühlingsfest, visit here.
Plan ahead and keep safety in mind
Large events such as the Stuttgarter Frühlingsfest increase the risk for drinking and driving. If you visit the fest, ensure you have a plan for returning safely home afterward:
• Leave your vehicle at home.
• Use a designated driver.
• Use public transportation or a taxi.
• Don't leave your children unattended at any time.
• Always follow the safety instructions posted at the rides and/or instructions given by the operating personnel.
• If you are in doubt, ask before you take a ride.
Where to buy fest wear
Krüger Dirndl City Store – Calwerstrasse 41, 70173 Stuttgart
Krüger Dirndl Store – Seestrasse 7, 71638 Ludwigsburg
Krüger Factory Outlet Store – Antoniusstrasse 21, 73249 Wernau
Angermaier – Eberhardstrasse 65, 70173 Stuttgart
Trachten Hit Trachten Outlet – Königstrasse 49, 70173 Stuttgart
Dirndlwunder Trachten Outlet – Kronenstrasse 6, 72555 Metzingen
Trachtenmode Breuninger Department Store – Marktstrasse 1-3, 70173 Stuttgart
Galeria Kaufhof Department Stores
• Königstrasse 6, 70173 Stuttgart
• Eberhardstrasse 28, 70173 Stuttgart
• Badstrasse 8-12, 70372 Stuttgart-Bad Cannstatt
C & A Department Stores
• Königstrasse 47, 70173 Stuttgart
• Milaneo Shopping Mall Mailänder Platz 7, 70173 Stuttgart
All stores accept Value Added Tax forms, except for Dirndlwunder.