By Holly DeCarlo- White
USAG Stuttgart Public Affairs Office
Being new to Germany or the Stuttgart community can leave you with many questions about the area, its history, the German-American relationship, and heritage that Americans have here during and after World War II through today.
The U.S. Army Garrison Stuttgart Community Relations Office in conjunction with the U.S. Forces Liaison Office Baden-Württemberg organizes a free tour to help answer each of those questions, called the Capital City Visitation Program.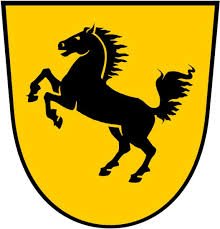 The full-day tour, including free lunch, is hosted by the State of Baden-Württemberg and the City of Stuttgart as a learning experience to better help community members gain an understanding of how Stuttgart became the thriving place that it is today, visiting the city government offices in Stuttgart, rarely available to citizens. Participants learn how the German political system works during a visit to the State Parliament building, Stuttgart's city hall or Rathaus, and a few of Stuttgart's other downtown landmarks including the International Market Hall or Markthalle,  and a stop inside the New Castle or Neues Schloss.
The tour includes transportation by bus to and from Panzer Kaserne, meeting at 8:30 a.m. in front of the Panzer Main Exchange, returning around 5 p.m.
Laura Cambiago-Spangler, Local National community relations specialist of USAG Stuttgart welcomes attendees as the tour guide and escort for the day's program of activities. She is available for questions on everything from German and local Swabian customs, culture and daily living in Stuttgart.
Following the morning Parliament visit and detailed informational session on the re-build of Stuttgart after World War II, attendees are treated to lunch to taste a local dish at a downtown Stuttgart restaurant. The day continues with a walking tour, ending at the City Hall, for a chance to ride in the famous historic revolving elevators or paternoster, and view Stuttgart Marketing's welcome video, followed by a personal question and answer session with the one of the cities mayors to discuss the city's focus.
Attendance is limited to 40 people so making a reservation is required in advance by contacting the USAG Stuttgart Public Affairs Office via email.
Whether you are new to Stuttgart, or have been here for a while, this exclusive, no-cost educational tour provides an opportunity to enrich your cultural and historical knowledge, and gain a new perspective of Germany and of Stuttgart.
The Capital City Visitation Program quarterly scheduled tours for 2016 are March 7, May 9, Sept. 12, and Dec. 12. To sign-up, email the USAG Stuttgart Public Affairs Office at usarmy.stuttgart.imcom-europe.mbx.usag-stuttgart-media@mail.mil.
Note: If you are signed up for an upcoming tour and no longer be able to attend, cancellation notice is requested at least three days prior in order to release the space to another person on the waiting list.
To view the photo album of a previous Capital City Visitation Program tour, click here.