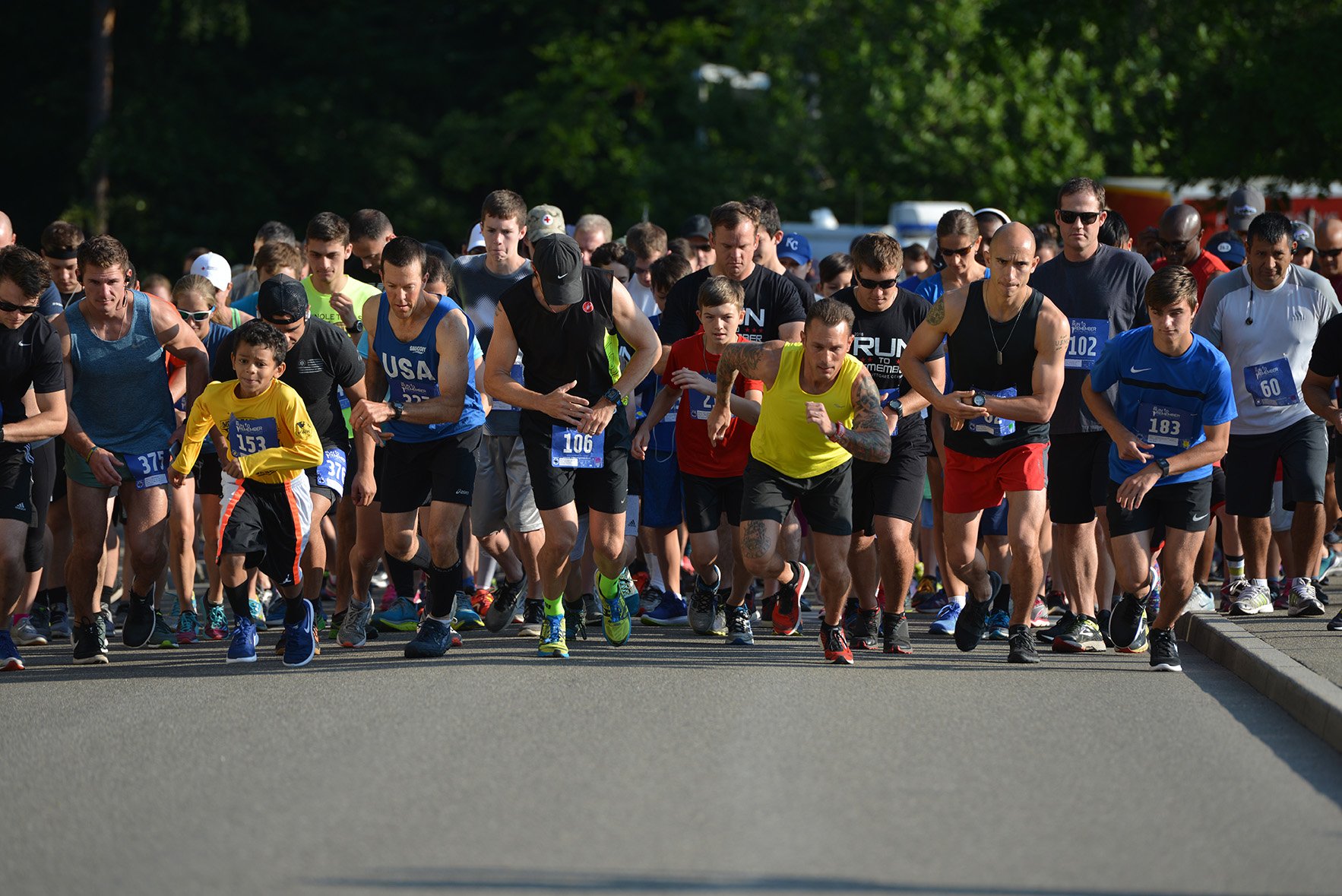 Story by Bardia Khajenoori
Photos by Jason Johnston, 7th Army Training Command
USAG Stuttgart Public Affairs
Holly Soule never knew Army Staff Sgt. Christopher Cummings, but on a brisk Saturday morning, she put on his dog tags and ran five kilometers to help keep his memory alive.
Soule was a participant in the annual "Run to Remember," hosted by Stuttgart Family and Morale, Welfare and Recreation in conjunction with the 1st Battalion, 10th Special Forces Group (Airborne), July 14.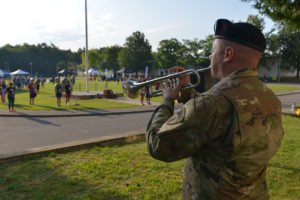 "It's the first military run I've ever done; I had no idea the opening would be as emotional as it was," Soule said, referring to a ceremony in which garrison Ch. (Col.) James Boulware read the names of fallen service members submitted by participants, followed by the playing of taps.
This year marked the 11th edition of the event, which is dedicated primarily to fallen service members from the post-9/11 era.
"It's our biggest race of the year, and at 13.1 miles, the half-marathon is our longest," said Felicia Hanes, fitness coordinator, Stuttgart MWR and race director for the Run to Remember.
With more than 350 racers split between the half marathon and a 5K, it is also a large undertaking that manages to provide fun for the entire family without losing focus on its reason for being.
Many runners saluted a battlefield cross, an upright rifle, helmet and combat boots, after making it over the finish line. Some kneeled in reverence and quiet contemplation as they placed the dog tags of a close or distant battle buddy onto the memorial. The gesture was a somber reflection juxtaposed against the festive atmosphere of party music and bells encouraging those reaching the final stretch. The event's theme was not far from the minds of the participants, whatever their reason for running.
"I just pictured all the people who came through here on duty and had to deploy downrange and train on those same trails," said John Scudder, a Defense Information Systems Agency-Europe contractor who won a closely-fought half-marathon with a time of 1:09:37.5. While the 23-time marathon competitor used the race as a warm-up for the upcoming Berlin Marathon, it was still an emotional occasion. "I had a lot more passion today, running with my fellow Americans in honor of our heroes," he said.
Scudder has spent years in the community and previously won the race, but the first-placed female runner in the 13.1 mile race—who, coincidentally, also has run 23 marathons—was just getting her feet wet locally. "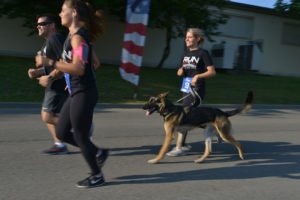 I've been here for three weeks," said Erin Almand, a new arrival from the Air Force (1:26:19.1), who unexpectedly heard several familiar names during the memorial section of the opening ceremony.
"I'm always proud to be part of events like this," Almand said. "I'm glad I came out to support."
Mandy Schaeffer, the first-placed female runner in the 5K (21:11:04), is an even more recent arrival.
"I'm here on a six month temporary duty assignment, and I actually ran the same type of race two weeks ago at my permanent duty station in Indiana," Schaeffer said. "It was a tough course with the hills, but it was great."
Several youth participants performed strongly and offered a glimpse at what might be a promising future for the Stuttgart High School athletic program, with rising freshman Landon McMinimy finishing first overall in the 5K with a time of 18:14:02. McMinimy also placed first overall at the five-mile Cobblestone Classic held in June.
Meanwhile, 15-year-old Hendrix Diaz-Veale (1:31:38.3), running his second half-marathon at the Run to Remember in three years, was one of the first to finish despite being the youngest participant.
"I wanted to improve my time, but also my form, speed and endurance," Diaz-Veale said after the race. "I did that today, and I'm pretty happy."
The next MWR-sponsored run at USAG Stuttgart is the "Dirndl Dash 5K," coming in September.