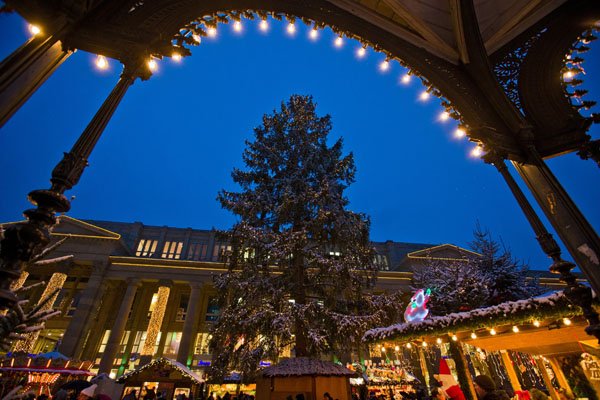 By Carola Meusel
USAG Stuttgart Public Affairs Office
Christmas in Germany casts a magical spell on cold and dark winter days. It's a time to celebrate long-standing family traditions, regional customs and values.
During their everyday routine, Germans pause and sit back to enjoy Christmas cookies, meet with family and friends at home or go to the many local Christmas markets, where they can taste hot Glühwein and Christmas punch.
"The most precious thing for me during the holiday season is the anticipation of Christmas. Everything is beautifully decorated and everything glows — this is very important during the darker winter season," said Dr. Martin Kilgus, a radio journalist with SWR International in Stuttgart.
The holiday season in Germany officially begins with Advent. Historically, Advent is the season in which Christians awaits the birth of Jesus Christ on Christmas day.
An Advent tradition in Germany is the Advent wreath. The wreath is made out of fir tree branches and decorated with dried fruits, pine cones, glittering Christmas ball ornaments or stars. Four candles represent the light brought into the world by Jesus Christ. A candle is lit each Sunday until Christmas Eve.
During the 20th century, the Advent calendar was introduced in Germany to help count down the days before Christmas Eve ("Heilig Abend," or holy evening). The typical Advent calendar is made out of paper and has 24 doors, one to open each day from Dec. 1-24. Children will find holiday season-inspired images or chocolate behind the paper doors. Some calendars also have boxes or small bags filled with presents to open each day.
Most people in Germany also begin to bake Christmas cookies during the Advent season.
"During the holiday season, I used to bake gingerbread, cinnamon stars and Gutsle [Swabian word for shortbread cut-out cookies] with my mother. The baking used to announce Christmas," said Kilgus, reflecting on his childhood memories.
"To this day my favorite cookies are the sugary cinnamon stars," he added.
The holiday season for Linda Tillmanns, an elementary and middle school teacher from Düsseldorf, officially commenced every year with the so-called "Weckmann."
"The Weckmann is a small cookie man fashioned out of sweet yeast dough. His eyes are made out of raisins, and he always carries a clay whistle in his arm. When the local bakeries started to sell the Weckmann, Christmas wasn't far," Tillmanns said.
Dec. 6 marks the birthday of Nikolaus, Bishop of Myra (known today as Turkey), and is celebrated in Germany as St. Nikolaus' (Santa Claus) Day. Legend has it that on his birthday, Nikolaus would don his precious bishop's coat, fill a big sack with nuts, apples, tangerines and honey cake, and load it on the back of his donkey. He then picked up his staff and walked along the streets, giving away the food to those he met.
Today, children place their boots outside their doors on the night of Dec. 5 in hopes that St. Nikolaus will leave some goodies in their shoes. Early on Dec. 6, most children find their boots filled with candy, gingerbread, toys, tangerines and nuts. In other cases, St. Nikolaus, also called "Weihnachtsmann," (Christmas man) visits children during the day in kindergartens and schools, or makes a grand entrance during the evening hours at home.
He is often accompanied by his helper, Knecht (servant) Ruprecht. Knecht Ruprecht carries all the presents for the children in a big sack on his back and has a birch switch hanging from his belt for those children who misbehaved during the year. While St. Nikolaus typically has a long white beard and wears a red coat with a red Santa hat, Knecht Ruprecht wears a brown or black coat and has a long gray beard.
Martin Kilgus has a St. Nikolaus Christmas ornament that he cherishes.
"I have this old porcelain St. Nikolaus figurine with a tea light in the middle. Every year during the holiday season, no matter where in the world I am celebrating Christmas, I put out my Nikolaus figurine to get into the holiday spirit," Kilgus said.
In Germany, Christmas Eve is celebrated with close family. Traditionally, the gift exchange takes place in the afternoon, followed by a festive meal. The choice of meal varies from goose with red cabbage, dumplings or potatoes, to fish, or, typical for Swabia, Saitenwürstle (sausages) with potato salad.
Many people in Germany visit extended family and friends on Dec. 25 and 26, also called the first and second Christmas days.
The exchanging of gifts takes place under the festively decorated Christmas tree.
Linda Tillmanns decorates her tree each year with real candles, angels, birds and St. Nikolaus figurines. "It's wonderful sitting under this tree with family and friends singing Christmas songs together," she said.
Kilgus also has special memories related to Christmas trees.
"My dad grew Christmas trees in our garden," he said. "We used to cut the tree and decorate it with glass ball Christmas ornaments and Lametta (tinsel) in the afternoon of Dec. 24. I was decorating and setting up the nativity scene, while my mother was cooking calf tongue with rice for dinner."
Calf tongue may not be part of everyone's holiday plans, but whether you're German or American, the holiday season can be filled with laughter, joy and even a little bit of magic. For Kilgus, part of this magic comes from simply being with loved ones around the Christmas tree, upwrapping presents and nibbling on Christmas cookies — together. Despite the cold outside, he enjoys the warmth that comes from being with those he loves.
"I simply enjoy the time with family and friends; everybody comes home for the holidays," Kilgus said.
In the words so many Germans will be saying to each other this month: "Fröhliche Weihnachten" (Merry Christmas)!