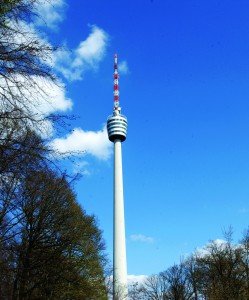 Story by Carola Meusel
USAG Stuttgart Public Affairs Office
For those not afraid of heights, or who desire a bird's-eye view of the greater Stuttgart area, the "Fernsehturm," or TV tower, reopens its doors to the public Jan. 30, 2016 following a three-year renovation period for work on fire prevention measures.
The TV tower, considered one of Stuttgart's most significant landmarks, closed to visitors March 27, 2013. Since then, €1.8 million was invested to improve the fire safety and prevention system just in time to reopen for the TV tower's 60th anniversary. The 217-meter tower originally opened its doors to the public Feb. 5, 1956, and was one of the world's first TV towers.
Back then, the "Süddeutsche Rundfunk," broadcast station for the northern Baden-Württemberg district, planned to install antennas 200 meters above ground for better radio and television reception. Originally, the plan called for antennas to be positioned on an iron-grid pole and secured with wired cable. That's when the Stuttgart construction engineer Fritz Leonhardt had the idea to build a TV tower. According to the Fernsehturm's website, Leonhardt was the creator, designer and constructing engineer of Stuttgart's TV tower.
Leonhardt aimed to highlight the structure's aesthetics by combining technical innovations with opportunities for Stuttgart residents and visitors to also benefit from the tower. His plan not only accommodated better radio and TV transmissions, but included a visitor's platform and a restaurant atop the Fernsehturm.
Leonhardt, who specialized in bridge design, suggested the use of pre-stressed concrete, a material mainly used for constructing bridges, as a method to overcome concrete's natural weakness in tension. Because it was not common to build a tower from pre-stressed concrete, the Fernsehturm was a risky and revolutionary endeavor because the structure had to resist winds, thunderstorms and possible earthquakes, according to the Fernsehturm website.
Following a 20-month construction period, the tower was officially opened Feb. 5, 1956.
"To me, the Stuttgart Fernsehturm symbolizes home. When I see the tower I know that I am in my city," said Martin Kilgus, a radio journalist for Südwestrundfunk, Southwest German Broadcasting Station, International in Stuttgart.
From the Fernsehturm's visitor platform at 150 meters, patrons can see it all: Stuttgart's downtown area, wine hills spanning along the Neckar River Valley, the "Schwäbische Alb," or Swabian Mountains, and the Black Forest and Odenwald areas. Not only was the Fernsehturm the first of its kind worldwide, but also set the example for many other TV towers, such as the Sentech Tower in Johannesburg, South Africa, or the Space Needle Tower in Seattle, Wash.
The "Panorama Café" atop the TV tower offers coffee, cake, and snacks and a bird's-eye view of Stuttgart. The restaurant "Leonhardts," named after the TV tower's constructing engineer Fritz Leonhardt, offers fine regional foods and Sunday brunch. The Fernsehturm is open Monday through Thursday from 10 a.m. to 11 p.m. and Friday through Sunday from 9 a.m. to 11 p.m. Tickets cost €7. Tickets for children between ages 6 and 15 cost €4. Admission for children 5 years old or younger is free. Fernsehturm is located at Jahnstrasse 120, 70597 Stuttgart. For more information, visit here.