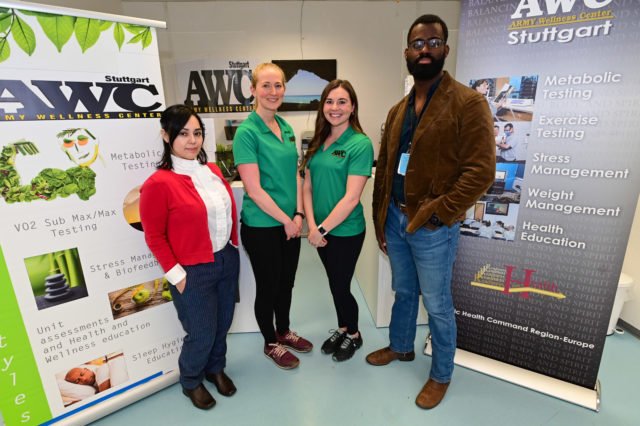 Story and photos by Paul Hughes
USAG Stuttgart Public Affairs
"I'm literally as fat as a jelly donut!" I laughed out loud at the beginning of 2018 as my health assessment results were revealed live on American Forces Radio (where I DJ'd at the time). 27% fat it said, the exact same fat percentage of Germany's favorite pastry. Like John F. Kennedy, I could say "Ich bin ein Berliner," though a bit less proudly. 
I was on a whole "new year, new me" kick, but before I even stepped foot in a gym I wanted to understand what I was dealing with, and well, become less like the donut. 
As part of a radio feature for AFN Wiesbaden on health, I had recently undergone a full range of services at the Army Wellness Center (AWC): Body composition analysis, metabolic testing and Vo2 testing, and I was being coached on a range of information about diet and exercising. 
As the results were revealed, it became clear that I was in an unhealthy state – and fast forward to today, things have begun to slide again, and as I look at my brethren in the Panzer food court's Popeyes Chicken line, I may not be the only one.
"I don't want to say it has been completely the blame of the pandemic, but I think a lot of people's health has declined," said Jovan Duhart, Stuttgart's Army Wellness Center Director. "People are realizing that they are increasing in mass, and their physical activity levels have gone down." 
After the pandemic forced the closure of the AWC in 2020, Duhart is back doing what he loves to do. Motivated by his own journey with his body, he's helping clients with their health goals on a daily basis, as well as leading the wellness center team.
Growing up in a "food desert," a term for a low income area that lacks access to quality foods and nutritional information, Duhart was raised and surrounded by people who were unhealthy. But his curiosity as to why some people were healthier than others drove him to understand the basics of nutrition and training. This ultimately saw him become a Crossfit athlete and the leader of health educators at the AWC here in Stuttgart.
Two of Duhart's team, Olivia Phillips and Keri Russo, both stress the importance of "wellness from every angle." They provide regular client health education with a range of services, from classes on nutrition, to coaching on sleep habits. From a client's very first session they will identify changes that can lead to immediate health improvements.
"The small changes that people are making because they've come here and worked with us have made a huge impact on their lives," Phillips said. 
If exercise, nutrition and sleep sound familiar, they should. These are the three components of the Army Performance Triad, the comprehensive plan to promote health and readiness amongst soldiers. The program is broad, but the AWC can offer something more tailored to your individual needs like they did for Army Maj. Wyatt Britten, an Operations Officer at U.S. Africa Command, who went into the AWC by chance one day.
Britten knew he wanted to lose weight, but he was not seeing clear eyed about the truth of his physical situation. After his free physical assessments –which can cost up to $5,000 at a private practice– he attended classes on nutrition, and with his health educator, set goals and made an action plan.
"When you have a checkpoint to let you know if you are on track, your mindset changes," Britten said. "Your commitment is higher when you have a process and people to be accountable to."
Britten's attitude on wellness changed, from being something he would get to eventually, to an integral part of his lifestyle. Four months after his first meeting at the AWC, he is already down 30lbs and 7% body fat.
Britten's results are amazing and his experience was similar to my own interactions with the AWC. Your health educator provides you with a health journey, a visual pathway of what your care will look like tailored to you. You'll learn exactly how many calories you burn per day before exercise, making you more conscious of the importance of activity and nutrition in reaching your health goals.
Four years after my first trip to the AWC, I have clearly fallen off the wagon and am currently made up of 26% body fat. A healthy range for someone my age (39) is 8-19%. So, it's time to get serious again about health and wellness, and maybe pass on my former spirit pastry – the jelly donut. 
Duhart said, "When the people come in, and they've decided right, I'm going to change. You feel excited because you have the tools to help drive that process forward."
Looks like I know just where to start again.
---
For information on Sleep or stress management, healthy nutrition, or to get your body's composition, metabolic rate or Vo2 fitness tested – search for Army Wellness center Stuttgart. 
The Army wellness center is co-located with the Gym at Patch Barracks, active reserve, dependents, civilians and contractors are all eligible to use it's free services. Call 590-1601 or CIV 06371-9464-1601 for an appointment today.