By Keri Kittinger, USO Stuttgart Programs and Volunteer Coordinator
Story & Craft Time at USO Stuttgart is a much-loved program in the USAG Stuttgart community. While we have been missing it these last few months, the program is running again virtually via the Zoom platform.
Lead Volunteer, Kymberlee Gilkey, stepped up to the plate and out of her comfort zone to make this program available despite the current restrictions. Every other Tuesday, she plans crafts made using simple supplies that can usually be found around the home.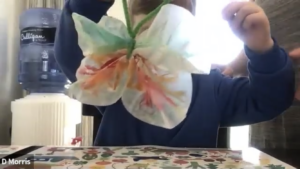 Kymberlee has a heart for kids and does a great job getting them engaged in the activity. Most recently, attendees made colorful butterflies using coffee filters, twist ties, markers and water after reading a book together online about Spring.
Kymberlee shares, "I love story and craft time, because how often do you get to dance and sing and shake your sillies out with 15 little people that are having almost as much fun as you are? My goal is to bring a love of learning and literacy to young children and watch as they bring their creativity and imagination to life. My hope is that story and craft time brings as much fun and joy to our little participants as it does to me!"
This program will require parents to do some of the work as far as having supplies ready and helping their little one follow along with Kymberlee as she talks them through making the craft. This virtual version in no way hinders the giggles and squeals of excitement as Kymberlee brings a story to life and little ones see their craft come together.
For more information about the program visit the USO's Facebook page, Instagram account, or website for details.