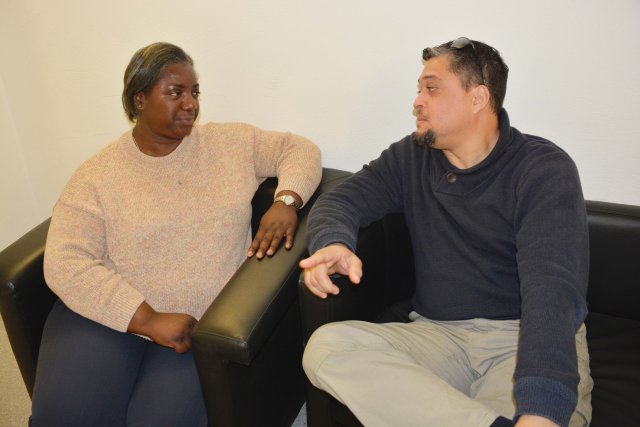 By Carolyn Becks, Manager
Equal Employment Opportunity
USAG Stuttgart
The USAG Stuttgart footprint is a diverse community. Discrimination in the Army can be detrimental to mission accomplishment because it destroys morale and productivity. With the challenges we face throughout the world, Soldiers and civilians of all races, color, sex, religion, national origin, age (40 or older), disability, reprisal or genetic information, must work together to serve our country in support of the Army's mission.
What is EEO process?
EEO is a principle that asserts that all employees should be given the opportunity to work and advance based on merit and ability without regard to race, color, sex, religion, national origin, age (40 or older), disability, reprisal (prior EEO activity), or genetic information.
The mission of the USAG Stuttgart EEO Office is to administratively process complaints of discrimination against the Army, develop and execute Management Directive 715 strategic initiatives that enhance our ability to achieve a model EEO program, and work with general officers and senior civilian leaders throughout the commands to ensure an environment free of unlawful discrimination. Additionally, we are committed to incorporating the principles of merit, fair treatment and equality of opportunity into the garrison footprints daily business practices.
What is the EEO complaint process?
The EEO complaint process is designed to address issues of discrimination based on race, color, sex, national origin, religion, age, disability, reprisal (protected EEO activity), or genetic information, to include adverse employment actions.
To initiate an EEO complaint, individuals must contact the EEO Office within 45 calendar days of the date that they were discriminated against or 45 calendar days from the date that they became aware of the alleged discrimination..
 What's the difference between EEO and EO?
It is important to understand that civilian Equal Employment Opportunity (EEO) and military Equal Opportunity (EO) are separate programs that deal with harassment and unlawful discrimination, and they function independently of each other.  EEO is for civilian matters, and EO is for military matters.  The EEO program provides services to current civilian employees, former employees, and applicants for employment in accordance with Army Regulation 690-600.  EEO is the Law IAW 29 Code of Federal Regulations part 1614. The EO program provides services to military personnel and their families in accordance with AR 600-20.
In short, EEO and EO are independent programs governed by different regulations.
Do you want to know more?
For questions regarding EO, please contact Sgt. 1st Class Pierre Boynton, garrison EO adviser, at 431-3756, or Master Sgt. Deonda Clarke, EO Advisor AFRICOM, at 421-5042.
For questions regarding EEO, please contact Carolyn Becks, EEO Manager, at 431-3355 or 07031 153355, or email usarmy.stuttgart.id-europe.mbx.eeo@mail.mil.