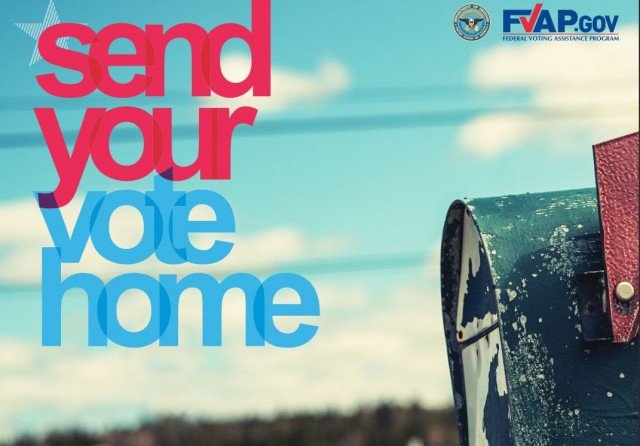 By Megan Brown
Editor's Note: Megan Brown is a Stuttgart High School career practicum intern for the USAG Stuttgart Public Affairs Office.
Turning 18 is the start of adulthood, which includes the constitutional right to vote. Registering to vote while living overseas as a military child however, can seem like an overwhelming experience. Not knowing the answer to some of the most basic questions, like state of residency, make the process more complicated than it should be.
To start the registration process you have to first determine where your parent's legal state of residency is. If they differ, you are allowed pick between the two. Also, some states allow you to vote in their elections if you can show proof of residency from the last time you lived there, before moving overseas, whether it's a home address or a parent's driver's licenses.
The system gets tricky for people who have lived overseas their whole life. Although, most states allow these people to vote, a few do not, but they can vote in the next election if they move back to the United States for college. "It is important to check the states requirements for all states you may be eligible for," Nicole Parent of the U.S. Army Garrison Stuttgart Voting Assistance Office said.
When living overseas, registration is done through a Federal Post Card Application form to request to vote via an absentee ballot. The form asks basic questions and does not require you to give driver license information.
By registering for an absentee ballot, it's understood that you will not be there in person, and even gives voters the option of email or mail-in ballots.
Since I will not be going to a college in my state of residency, I will use the absentee ballot, selecting 'email' as my preferred method to receive the form.
Since I will not be going to a college in my state of residency, I will register to use the absentee ballot, selecting 'email' as my preferred method to receive the form. If you are moving to a college in the state of your residency, your home-state, you can register to vote locally, or you can still vote by absentee ballot.
If you register to vote using an absentee ballot, and then relocate to your state of residency for college, you can also choose to vote locally even after you registered absentee if you register again locally.
The absentee ballot registration can be found online or picked up at the Voting Assistance Office located on Panzer Kaserne, Building 2913, Room 114 .
To register online, the form can be filled out easily on the Federal Voting Assistance Program website fvap.gov. It will not work if you go to other state websites directly.
The best part about the absentee ballot is that unless your email changes or you move, the ballot will carry over and does not need to be redone every election.
While the deadline varies from state to state, the Voting Assistance Office urges voters to register as soon as possible because that allows them the right to vote in the primary if it has not already happened. About half of the states allow 17-year-olds to vote in the primary if they will be 18 by the time of the general election, so it is important to register early.
_________________________________________________________
Have more questions? Contact the Voting Assistance Program office Building 2913, Room 114, Panzer Kaserne DSN: 431-2865/civ. 07031-15-2865, http://www.stuttgart.army.mil/services-vap.html.