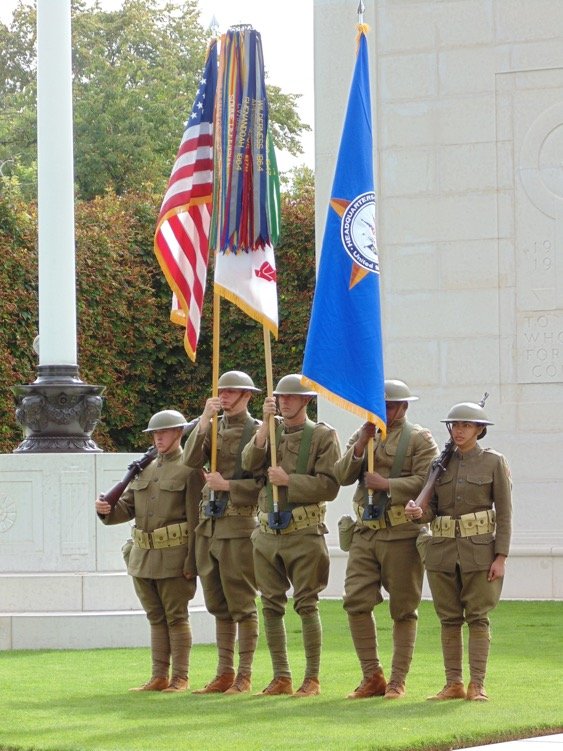 By Stephanie Addison & Joe Holder
Veterans of Foreign Wars Post 10810, Stuttgart
[slideshow_deploy id='41514′]
The American Expeditionary Forces of World War I was formally established on July 5, 1917, building up from 14,000 Soldiers the previous month to more than a million by May 1918. Fighting together with its allies from France, Great Britain, Canada, Australia and Italy, the AEF fought with valor in such battles as Cantigny and Belleau Wood through the summer of 1918.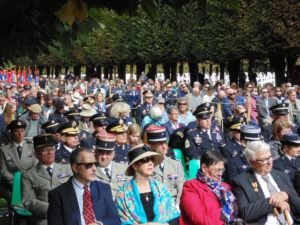 Gen. John J. Pershing, commander, AEF, laid out an 8-page battle plan to push the western front into Germany. The Saint Mihiel Offensive conducted Sept. 12-16, 1918, was the first American-led action of the war. By the end of September, the Meuse-Argonne offensive began.  The Meuse-Argonne Offensive was the greatest American battle to date in numbers of combatants and casualties, leading to the armistice that ended the war on Nov. 11, 1918.
A century later, six members of the Veterans of Foreign Wars, Post 10810, Stuttgart, traveled to France, Sept. 22-23, to participate in commemorations of the last two major offensives of World War One; St. Mihiel and Meuse-Argonne.
The Centennial Commemoration of the St. Mihiel offense was held at the Saint-Mihiel American Cemetery near Verdun, France, the final resting place of 4,153 Americans. The observance was attended by military and civilian participants from around the globe who came to honor their fallen "Doughboys" or fellow countrymen. Remarks were made by U.S. Army Gen. Curtis M. Scaparotti, commander, Supreme Allied Commander Europe, and French General de Corps d'Armee Gilles Lillo. Both generals laid a wreath of remembrance. Also in attendance were descendants of famous American Soldiers such as Gen. John Pershing, Sgt. Alvin York and Gen. George Patton.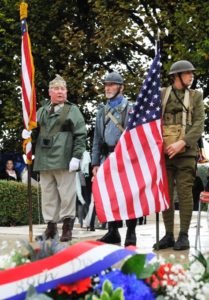 The Stuttgart VFW six visited the largest American cemetery in Europe at the Meuse-Argonne American Cemetery and Memorial, Sept. 23. Throughout the day, Soldiers' names were read by volunteers and each grave site was illuminated. The VFW members placed more than 500 candles on some of the 14,000 headstones in preparation for the WWI Centennial Luminary Event that evening.
Despite the very inclement weather, the ceremony began with guests moving into the cemetery chapel. Among the distinguish visitors was Secretary of the Army Mark T. Esper.
In commemoration of the 100th anniversary of Armistice Day, VFW Post 10810, in conjunction with Patch Chapel, will conduct a combined ceremony and service at the chapel, Sunday, Nov.11, at 11 a.m.  The commemoration is open to the entire Stuttgart military community.
A century ago, Americans fought in the war to end all wars; not for pride or fame, but for sense of duty. They will never be forgotten.