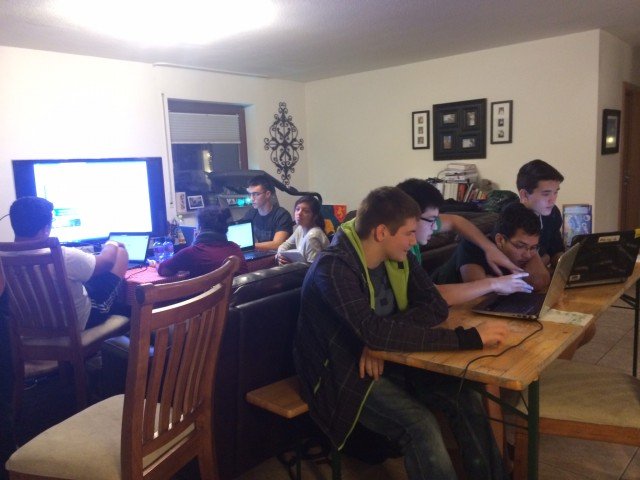 U.S. Army Garrison Stuttgart Public Affairs Office
Members of the Stuttgart Civil Air Patrol recently placed first and second in the CyberPatriot All Service Gold Division competition Dec. 7.
CyberPatriot is a global cyber defense competition created to inspire high school students toward careers in cybersecurity or other science, technology, engineering or mathematics disciplines. During the competition, students play the role of informational technology security specialists, reacting to or preventing attacks on a business or government agency computer system.
Andrew Brabazon, Xochitl Hernandez, Lewis Moorhead and Jennifer Weaver took first place as the Mighty Griffins, followed by The Demon Chasers, consisting of fellow cadets Jonathan Brabazon, Trey Hernandez, Jordan Hosler and Nigel Scott.
Both teams entered the Gold Division with strong results from the first round of competition held in October. Then, the Stuttgart teams finished tops in Europe and ahead of more than 400 other teams worldwide, qualifying them for the Gold Division.
Both teams will now compete in the finals to be held March-11-15.
"This field of cybersecurity has a great future ahead of itself with the passion and knowledge this future workforce will bring," said Bill Brabazon, the Stuttgart Civil Air Patrol commander.
Brabazon, a civilian employee with U.S. Africa Command, said the team members, active high school wrestlers, football players and part-time college students, showed true dedication as they also had to contend with the time zone difference, finishing rounds at 11 p.m. on a Sunday night to be back at school Monday bright and early.
"This is our first year competing and the team was amazing. A big reason for our success is the passion our coach, Joey Hernandez, instilled in the team through a security boot camp and weekly cybersecurity seminars up to the competition," he said.
Hernandez, an AFRICOM civilian cybersecurity manager, said that the cadets never ceased to amaze him.
"The methods they used to analyze, research, triage and secure system vulnerabilities on multiple operating systems to include Windows, Server variants, Linux (Ubuntu), and Cisco networking devices were methodical and fluid," Hernandez said.
"The seniors on the team … have shown the ability to be successful should they pursue a career in cybersecurity; I'd be grateful to work with them as colleagues in the future," Hernandez added.
For more about CyberPatriot, visit www.uscyberpatriot.org.