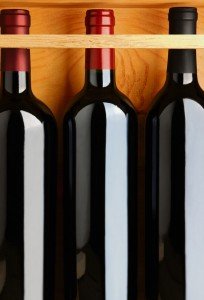 By USAG Stuttgart Public Affairs Office
Having permanent change of station orders does not mean that a prized wine collection must be left behind.
The process isn't exactly easy, but the key, according to Beverly Sowell, the Installation Transportation Officer with the Stuttgart Logistics Readiness Center, is to start early.
Whether you are shipping a wine collection or lugging a crate of German beer onto the plane home, Sowell said state laws vary so much that you need to know exactly what restrictions apply in the state you arrive in and at your final destination.
You will need to find out about any restrictions, duty taxes and the specifics of how to pay those taxes; you might have to pay these upfront, depending on the state.
After you've researched the import laws, your first stop should be the U.S. Army Garrison Stuttgart Transportation Office to find out about weight limitations and shipping procedures. You don't need PCS orders in hand to do so, said Sowell.
Shipping wine requires several forms, including a power of attorney to clear your shipment through customs, and a detailed wine inventory. The transportation office will provide all the necessary forms.
Those moving are required by regulations to have a minimum of 500 pounds, or about 250 bottles of wine, in order to arrange a government shipment. If the amount being shipped is less than 500 pounds, the Personal Property Shipping Office will make a referral to a local moving company. This type of shipment is considered a personally procured move that can be reimbursed up to the amount paid, but not to exceed the government's cost. In addition, reimbursement is also dependent upon having weight left on the members shipping entitlement.
Keep in mind that the U.S. Postal Service does not mail wine and express shipping companies are usually not willing to ship wine. However, some airlines will allow small collections to be checked as excess baggage for a fee.
Planning ahead and following the rules will give individuals an opportunity to enjoy alcoholic beverages purchased here at a new stateside home for years to come.
One final note: The Personal Property Office cannot contract or commit moving services without PCS orders.
Links to state alcohol control boards can be found at the U.S. Treasury's Alcohol and Tobacco Trade Board at www.ttb.gov/wine/state-ABC.shtml.