USAG Stuttgart Public Affairs Office
Today, American Forces Network Stuttgart listeners could enjoy musical season's greetings as the Stuttgarter Saloniker Swing and String Orchestra played live in the AFN studio on Robinson Barracks from 7-8 a.m. during the morning show's Culture Corner.
Sgt. Ian Morales, of AFN Stuttgart's "Morning Cup of Joe with Monster Mo," and Carola Meusel, with U.S. Army Garrison Stuttgart Public Affairs Office, hosted the band master and musical director of the orchestra, Patrick Siben, along with the violinist Johannes Krampen. Siben played piano and even brought his own instrument to the studio.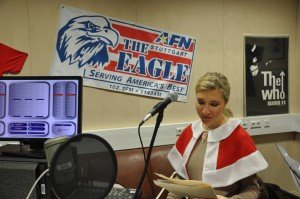 The Stuttgarter Saloniker also played on Panzer Kaserne during the U.S. Army Garrison Stuttgart Organizational Day Aug. 29. And the history continues, as the Saloniker Swing and String Orchestra will play a St. Nicholas concert at the Exchange on Panzer Kaserne Dec. 6 from noon to 1 p.m.
Besides entertaining listeners and the AFN team with glorious sounds, Siben also talked about the Stuttgarter Saloniker orchestra, also known as the "orchestra of never-ending opportunities," its various formations and range of musical selections. He also informed music lovers on upcoming Christmas and New Year's concerts that the Saloniker will play between now and January.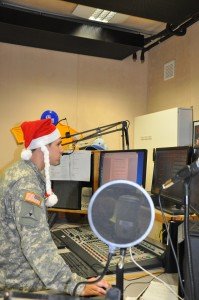 Siben and Krampen also talked about some of their treasured family traditions during the Christmas holidays, which include – of course – playing music and singing with loved ones, but also take time to pause and enjoy the foods, Christmas tree and good company.
Siben also talked about how AFN influenced his "addiction" to music. Back in the 1970s he was secretly listening to AFN at night when his parents were in bed. The disc jockeys always played more popular music such as jazz and rock, than any other German radio station would typically do, Siben said.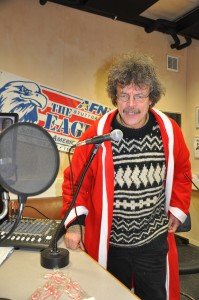 The Stuttgarter Saloniker play all types of music, ranging from classic, folk, jazz, swing to Vienna classic, opera, Latin, rock, pop and funk during their various concerts, balls and dinner events. Many of the concerts take place at the Saloniker's impressive art-nouveau estate "Villa Franck," in Murrhardt.
The estate was built between 1904 and 1907 as a summer residence for Robert Franck, a chicory coffee producer in Ludwigsburg. The art nouveau and Baroque-inspired building makes for an authentic place to enjoy Saloniker music.
Don't miss the Stuttgarter Saloniker String and Swing Orchestra's St. Nicholas concert at the Exchange on Panzer Kaserne Dec. 6 from noon to 1 p.m.
For more concerts, visit www.stuttgartcitizen.com and click the "Culture & Leisure" tab and "Off-Post Events" to get to the Culture Calendar.
For a full listing of Stuttgarter Saloniker events and concerts, visit www.saloniker.de, or www.villa-franck.de.
Read more about the Stuttgarter Saloniker.