By Holly DeCarlo-White
USAG Stuttgart Public Affairs Office
The Stuttgart Health Clinic's Clinical Nurse Officer In Charge, Cpt. Katherine L. Converse provided important resources for the community during the weekly Healthy Tuesday morning show segment on AFN Radio, March 7.
Among the many tips given on last week's show, the clinic recently added all forms to their website for Stuttgart military personnel and family members to download in advance and complete at their own pace before their appointment. Converse hopes this will cut down waiting room times, plus decrease an added layer stress for sick families feeling pressured to fill out loads of information on the spot.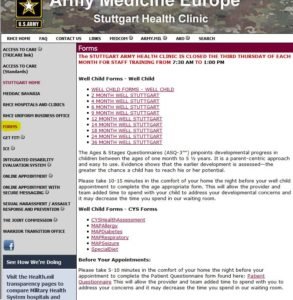 Available forms include Child and Youth registration, questionnaires and more.
To get to the forms, go to the "forms" section on the left side of the home page.  On the website, there is also a link for "online appointments" for Tricare Online, as well as "online appointments with secure messaging" through Relay Health.
"The best way to make an appointment yourself is through Tricare Online because it is immediate, whereas if you request an appointment through Relay Health, you have to wait for a person to call you back or send you a message," Converse said.
Relay Health secure messaging services make communicating with a health provider faster and easier.
"The biggest benefit to Relay Health is being able to ask your provider questions that you do not feel warrant an appointment," Converse added.
The Health Clinic recommends all personnel and family members register and bookmark these websites to save time: