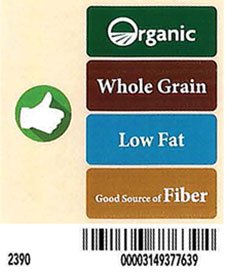 By Rick Brink
DeCA Public Affairs Office
The phrase "Dietitian approved! We did the work for you!" is catching on at commissaries around the world as customers are using the Defense Commissary Agency's new Nutrition Guide Program to help them shop.
"It's catching on quickly! Here we are in March, National Nutrition Month, and our customers are readily adapting to NGP, which was just introduced in January," said Deborah Harris, DeCA dietitian. "That speaks to how easy it is to use, and how important nutrition is to our customers, especially since a big part of military service is readiness and resilience."
One reason for NGP's success is because commissary store directors, dietitians and other health professionals on military installations have helped raise local awareness of the program, some with commissary shopping tours, Harris said.
Dietitians and health professionals are quick to point out that no one diet is right for everyone. It's important to follow a healthful eating plan that fits each person's unique lifestyle. So what does NGP do?
"It helps you meet your health and wellness needs and guides you in building a nutritious shopping cart," Harris said.
The color-coded shelf labels point out items with key nutrient attributes. The labels make shopping easier. There's dark blue for low sodium, brown for whole grain, purple for no sugar added, light blue for low fat, golden yellow for good source of fiber. There is also green for the lifestyle choice of USDA certified organic.  Many items have a combination of qualifying attributes.
Then there's the "Thumbs Up" icon. Labels that also feature a "Thumbs Up" icon identify more nutrient dense items, so-called high nutrition quality/high performance foods and align closely with the DOD's Go for Green program. Details of the Nutrition Guide Program are available at www.commissaries.com/healthy-living/nutrition-guide.cfm.
"We're off to a great start, and it's good to know that long after National Nutrition Month is over, our Nutrition Guide Program will continue to help patrons improve the nutritional quality of their diets, and meet their health and wellness needs" Harris said.
Read more about the program in this previous article here.