By Christian Dengel
USAG Stuttgart Energy Office
The most comfortable way of staying warm is to heat your room uniformly throughout the winter time. Setting the thermostat valve of your heating at three to four will not only provide the most comfortable warmth, it saves heating cost and eliminates the need for changing the heat settings.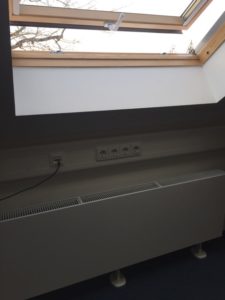 For air exchange, open the windows only for a short time. The rule of thumb is open a window 3-5 minutes. Never leave windows open or tilted for more than 10 minutes – leaving the windows open or tilted for too long not only lets the heat escape, but at the same time, cold air hits on the walls, causing increased humidity and vapor formation, an ideal condition for mildew build-up. While windows or doors are open, radiator valves should be turned off.
Building entrance doors are potential sources of heat loss. Keep them closed at all times and make sure the weather stripping is still good.
Pull down window exterior blinds or rolladens at night during cold weather periods. It helps keep your living space warm.
Don't overheat your rooms and don't block radiators.
Do not reset to manual the automatic function of your boiler. Call your building coordinator or hausmeister if you have any issues with your boiler.
In garrison buildings, the USAG Stuttgart Energy Office asks facility users to report air leaks, broken radiators or weather stripping to the Directorate of Public Works. Call the Service Order desk as soon as possible so building occupants stay warm and to ensure that energy isn't wasted. Keep in mind that portable heating devices are not allowed for use in garrison facilities.
Sustain the mission – secure the future!
The Department of Energy has more general tips. Visit  https://energy.gov/energysaver/articles/top-10-tips-save-energy-and-money-winter.