By Rick Scavetta
U.S. Army Garrison Stuttgart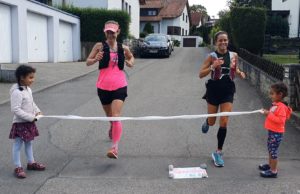 While COVID-19 curtailed most major races and marathons, some runners in the U.S. Army Garrison Stuttgart Community have kept going.
Anita Schorlemmer, an avid runner, is the spouse of Maj. Pocho Nieves Concepción, of Defense Information Systems Agency – Europe. Through Facebook, she organized fellow runners from the U.S. and Europe to take part in virtual run.
"We were from all over the world and we ran together. It's what we needed."
"It was a 24-hour challenge. I put it on my Facebook and had a huge response from my runner friends," Schorlemmer said.
Runners ran or walked five miles every four hours for 24 hours; totaling a 50 kilometer adventure. In all, 30 runners took part in the Mother's Day event. They all began at the same time, 9 p.m. locally. Some were in Hawaii, a 13-hour time difference from the "Stroller Warriors," a running club on the island made up mostly of military spouses. Locally, a club called "Mothers Run This Town," joined in. Runners from every U.S. time zone, plus runners from the UK and Central Europe also took part.
"We had a couple guys too," Schorlemmer said. "Not just moms."
Some starts were in the wee hours of the morning, long before sun-up. One woman ran at Robinson Barracks, others were on Patch Barracks. One runner used a treadmill at night. Schorlemmer, who lives in Dettenhausen, convinced a friend to run with her at 1 a.m. in the nearby forest. Runners motivated each other through Facebook video chats. Later on, they shared images through Facebook of their accomplishments.
"This run was an uplifting experience," said Schorlemmer, adding that she hopes to do a similar event again. "We were all over the world and we ran together. It's what we needed."