By Mac Hightower
Stuttgart Citizen volunteer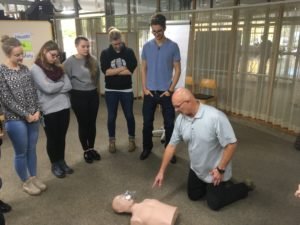 When Stuttgart military community members attend an American Red Cross class on CPR or first aid, there is a good chance they are getting instructions from Steven Dunlap, a professional with decades of experience handling emergencies.
Dunlap has been volunteering with the American Red Cross since the early 1980's.
Growing up in California, Dunlap spent summers in high school working as a lifeguard. It was then that he gained an interest in medical emergencies, which led him to become a full-time paramedic in his home state, and later in North Carolina.
Dunlap served in the Army, too, retiring from active duty in 1996.
"Showing up to a scene, there's a 1,000 split decisions that need to be made."
For eight years, Dunlap volunteered with the American Red Cross in Stuttgart, sharing his knowledge with people to help save lives. By training others, Dunlap is preparing the Stuttgart military community for times of emergency.
"It's always been very important to me because of past working experiences on an ambulance," Dunlap said. "It's important to teach these classes to expose people to these situations."
Jennifer Worrell, ARC Stuttgart's field office assistant, said Dunlap always goes above and beyond. "He is always willing to step up," Worrell said. "He's constantly looking for ways to improve the station and offer courses to the garrison community."
As one of just two people in all of Europe with the title "instructor trainer," Dunlap goes all over to train others to teach how to perform CPR and first aid. In 2019, he certified 16 individuals to teach others. That enabled dozens more people to get trained on important skills.
All too often Dunlap saw bystanders standing around at emergencies, unsure of what to do, he said.
"Showing up to a scene, there's a 1,000 split decisions that need to be made in a second. It's an adrenaline rush. The biggest thing to get across to people is how are they going to react," Dunlap said.
For more on volunteering or courses with the American Red Cross in Stuttgart, call 09641 70596 2812 or email stuttgart@redcross.org