By Mac Hightower
Stuttgart Citizen volunteer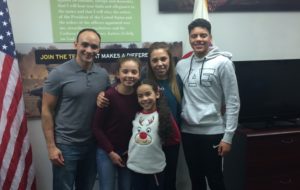 Since Wendy Rodriguez was a child growing up in Mexico, she dreamed of serving in uniform. Unable to join the army in Mexico, Rodriguez remained undeterred and kept thinking about how she could serve.
She married and started a family raising three children, now ages 10, 12, and 18.
Eight years ago, her husband enlisted and in 2014 deployed to Afghanistan. Rodriguez, then a full-time student, took care of their three children alone. Rather than struggle with the demands of raising children as a military spouse, "I fell more in love with military life," she said.
Expressing both a love of the opportunities enjoyed by military families, and the community on a base, Rodriguez explained that the time reaffirmed her desire to eventually serve. Rodriguez said a long time friend, Maria Angelina, was another catalyst.
"She always told me to keep pursuing what you do, and, to use kids as a reason, not an excuse," Rodriguez said.
Last year, while living with her family in Stuttgart, Rodriguez sought out Army recruiters with hopes of fulfilling her dream. She passed her entrance exam, filed an age waiver and after 22 year, fulfilled her dream to enlist.
Stuttgart Citizen volunteer Mac Hightower caught up with Rodriguez to find out some more details.
Stuttgart Citizen: What helped you to adapt to military life?
Rodriguez: Finding good friends. Ones you can rely on for anything from something big to just someone willing to sit down and have a coffee with.
Stuttgart Citizen: How did you feel in your enlistment ceremony?
Rodriguez: My swearing in ceremony was done by my best friend Maria, who is a retired colonel. I didn't want to look her in the eyes because I would cry. The day was filled with a lot of emotions. We could start laughing and end up crying. It was impossible not to.
Rodriguez is headed for Fort Jackson, South Carolina, where her husband is now stationed.
For more information on how to join the U.S. Army while in Stuttgart, contact the Stuttgart Recruiting Stuttgart, at 0162 2631241 or DSN 431-3492.