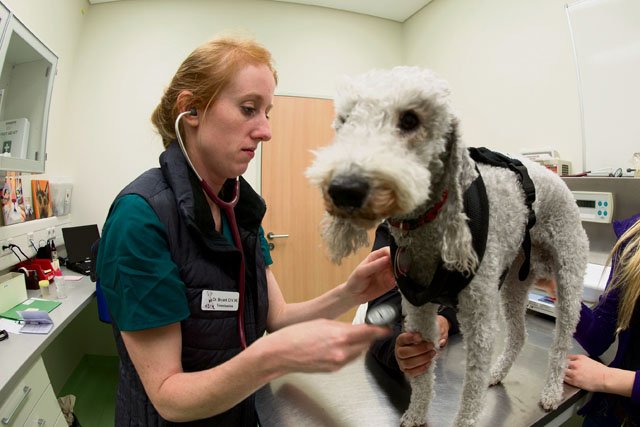 By Capt. Bret A. Miller
Stuttgart Vet Clinic Branch Chief
One of the most common phone calls the vet clinic receives during this time of year is from folks who are getting ready to return to the U.S. and want to know how to take their pet with them.
As with anything else during a move from one duty station to the next, there are many factors involved and paperwork and planning is everything. Factors that can influence what procedures you need to follow include: species, breed, and age of your pet, your final destination, and which airline your pet will be traveling on. Taking the time to learn the regulations and your options can make your animal's move less stressful for everyone.
First, let's discuss the laws and regulations that govern the importation of an animal from Germany into the U.S. The Centers for Disease Control and Prevention governs the import of dogs and cats into the U.S. However, states and territories often have additional requirements as do certain airlines. In general, dogs and cats are required to have a current rabies vaccine that is at least 30 days old, not be ill with a disease that can spread to humans, be examined by a veterinarian, and have a health certificate signed within ten days of arrival in the U.S. For dogs and cats traveling to Hawaii and Guam, there are many additional regulations that apply so it is best to do some research online. Hawaii's process can take more than four months to complete.
Skipping steps can lead to heavy fines and your pet being quarantined for up to 120 days at your expense. Are you thinking about taking an animal other than a dog or cat back to the U.S. Specific regulations depend on the species. The U.S. Department of Agriculture governs the importation of birds, horses, rabbits, and other small mammals while the U.S. Fish and Wildlife Service sets regulations for importing reptiles and fish and the CDC oversee the importation of turtles.
What if your next duty station is not in the United States? Japan and South Korea are two common destinations for families associated with the military. Japan's process involves very specific paperwork and requires your pet to have a microchip, two rabies vaccines, and a blood test. The entire process can take up to eight months to complete. South Korea has similar requirements and mandates that a German federal veterinarian sign your pet's paperwork.
When setting up your flight arrangements, you will need to consider a few things when traveling with an animal. Each airline has its own rules, so you must research them to make sure your pet will be accepted. Some airlines do not allow pets in the cabin on transatlantic flights. Others will not accept brachycephalic or "snub-nosed" dogs and cats as checked luggage. Many airlines also restrict transporting animals when the forecasted temperature is too high or low at any location on your itinerary.
Shipping your pet unaccompanied as cargo instead of luggage can help ease these restrictions. Another great option for military members is the Patriot Express flight out of Ramstein Air Base. Pets may accompany military members who are on PCS orders. You will need to contact the Ramstein passenger terminal for details on how to get your animal a spot on the plane. One important thing to note with this option is that Patriot Express flights only travel to Baltimore. So be sure to make follow-on arrangements to get to your final destination. Whichever travel arrangements you choose; you should set aside some cash for the airline fees. They can sometimes exceed a few hundred dollars.
Your pet has been with you during this exciting time in Europe. Getting them to your next adventure requires some planning and flexibility but many people and pets have gone before and been happy when it is over. So, start early, research and discuss your options with your family, choose what works best for you and your pet, and let your veterinarian know if you need help.
Pet shipping tips
Reserve air space for shipment as early as possible.
Do a cost comparison of shipping your pet as excess baggage versus air freight shipment, if applicable.
Provide a sturdy leak-proof crate (lined with absorbent material such as newspaper) that is large enough for the animal to stand, lie down, or turn around in, but not so large that the animal would be battered around in rough weather.
Let your pet become accustomed to the crate before shipment by having practice sessions that build in time of confinement. Be sure the pet has a comfortable pad to lie on and a few familiar toys. A leash should also be included with the crate.
Put identification tags that include an emergency phone number around your pet's neck.
Print your name and destination address clearly on the shipping crate. Include your pet's name, so that attendants can talk with him/her. If the pet has special habits — or bites —also include that information.
Carry a photo of your pet with you.
Feed your pet just a light meal about six hours before shipping — no water within two hours unless it is very hot (or the animal is very small). A water dish that is attached so it cannot tip should be provided, but it should be conveniently located to allow an attendant to provide water at stopovers without being bitten.
Send dry food along if the trip is long.
Do not tranquilize the animal.
Exercise your pet just before shipping so your animal will sleep better during the trip.
Check with the agent who meets the flight about your pet's progress when you are changing planes.
Allow plenty of time between connecting flights to be sure your animal is transferred to your flight if traveling with you.
Arrange to have your pet picked up immediately upon arrival. Airline facilities for pets may be limited or nonexistent.
For more information on traveling with your pet, or to schedule appointments for vaccinations or health check-ups for your pet, contact the clinic on Panzer Kaserne at DSN: 431-2681/civ. 07031-15-2681.