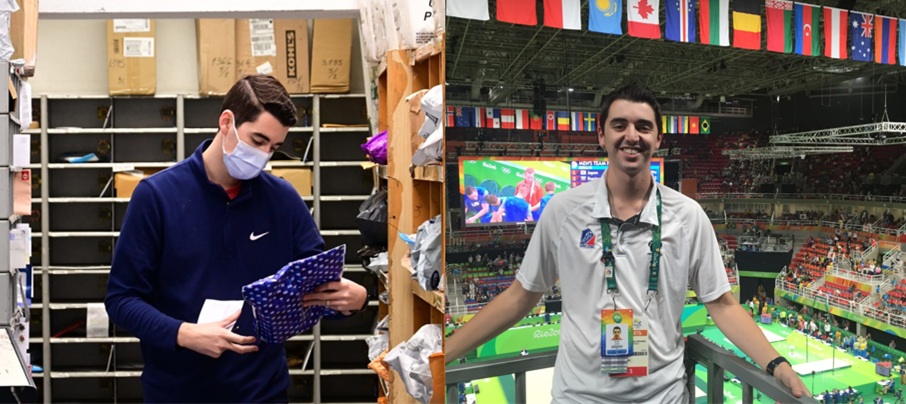 by Bardia Khajenoori
U.S. Army Garrison Stuttgart Public Affairs
U.S. Army Garrison Stuttgart Postmaster Larry Baricuatro was skeptical when the leave request first came across his desk last year: a postal clerk had requested time off to serve as a television correspondent at the Summer Olympics in Tokyo.
"At first, I was like, 'Right…you're [kidding] me,'" he said with a laugh. "But then I found out it was the real deal."
As it turns out, Euan Leith – responsible for registered and accountable mail in his day job at the Patch Postal Service Center – has a professional background in sports and television production, with two Olympic Games under his belt even before moving to Stuttgart.
Having joined NBC's broadcasting team in Japan for the one-year-delayed 2020 Summer Games, he's now packing his bags again to serve as an associate producer at the 2022 Winter Games in Beijing.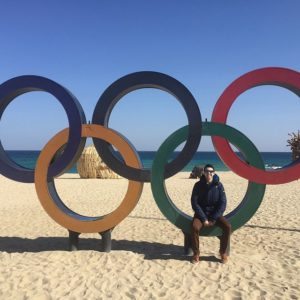 "Everyone here knows I'm kind of a sports nut," Leith said. "I'm incredibly lucky – after the first time, I thought I'd never get to go again."
His path to the Olympics began in his native Texas, where he maintained a keen interest in sports growing up and eventually earned a degree in broadcast journalism. After two internships – first with a Major League Soccer team and then with a regional sports broadcaster, he joined Universal Sports, a network that provided more comprehensive coverage of sports which generally received only seasonal attention from large audiences.
"That involved a lot of waking up at 1 a.m. every Friday, Saturday, and Sunday to cover things like cross-country and alpine skiing, curling, bobsled, and skeleton," he explained.
Although Universal Sports shut down in 2015, there was a silver lining for Leith: being invited to join the "sports desk" team at the 2016 Summer Olympics in Rio de Janeiro, Brazil, producing sports and culture pieces.
'Marquee' sports already had full-time correspondents in Rio, Leith said, so production staff could volunteer to cover events like archery, equestrian, and rugby sevens. "I'd rather go watch sports all day than sit behind a desk, so of course, that's what I did," he said.
Upon returning home and getting married, Leith chose not to relocate to the east coast for a position with the Olympic Channel, the effective successor of Universal Sports. Instead, he did freelance work for teams in Denver, where he was living at the time, wrote about fantasy sports, and generally picked up whatever opportunities he could to keep actively engaged in the sports world.
"If there was a ball on the ground or in the air, I was there," he said.
Leith joined the production staff again for the 2018 Winter Games in Pyeongchang, South Korea, and had already agreed to work the Tokyo Games as his wife started a new job in Stuttgart. The couple moved to Germany in February 2020.
"I thought I would have three months of down-time, go to the Olympics, and then find a job on base, but then everything shut down due to COVID and the plans changed," said Leith.
He joined the garrison postal team initially as a temporary hire to support COVID operations, but the time eventually came to discuss his plans for Tokyo with his supervisor, Ray Hayes.
As his initial term was approaching its end, Leith understood that he could effectively be resigning early. Hayes, however, was more than receptive and was even able to keep him on the staff after the temporary appointment expired.
"It was an opportunity not only for him, but also for the garrison to have one of its people be a part of something historic," said Hayes. "Automatically, when he told me about it, I felt as though I had to support it."
Leith's teammates were also fully on board, as was Baricuatro, Leith's second-line supervisor and a former competitive athlete himself.
"When I was boxing in the Army, going all over the place to compete, that's stuff you can never forget. He can tell those stories to his grandkids," said Baricuatro. "We were very excited for him and proud of him."
But while Tokyo was "an incredible experience, as all Olympics are, it was definitely different" with COVID mitigation measures such as no spectators, Leith said. "It was so strange without crowds. Watching diving, the only sound was the splash as they entered the water, maybe a few claps from other athletes there."
Leith underwent a two-week quarantine within the Olympic 'bubble' during which he could only travel between his hotel room, workplace, and a designated grocery store. The third and final week offered an opportunity to leave the bubble and explore.
He added that the COVID-mitigation approach at the Beijing Winter Games will be even stricter, with the 'isolation bubble' requirement lasting the entire length of his three-week stay. Even so, he remains unfazed. "They could put me on the wing of the plane and I'd still go," he said. "I would have done any job, even getting people coffee, if it meant being able to go there and be at the Games again."
Meanwhile, the postal staff are resilient and used to adapting to any absence, said Baricuatro. "When people get sick or get hurt on the job, we don't get replacements; we've just got to keep moving forward, and that's what we do. The mission doesn't stop," he said. "Luckily, this time it's a good thing."
Leith, for his part, is eager to emphasize his appreciation of his teammates and the enabling role they play. "I'm incredibly fortunate to work with people who support me, because they don't have to," he said. "It's a work environment without resentment, which lets me live out the passionate side of what I was doing before."
So, when members of the Stuttgart garrison postal team watch coverage of the upcoming Games, they'll do so knowing one of their colleagues is again helping to bring it to them.