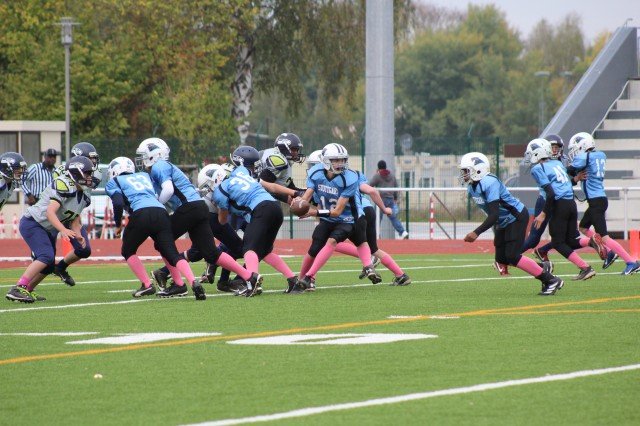 By Alan Bal
Special to The Citizen
Culminating an undefeated season by winning the Installation Management Command-Europe Child, Youth and School Services football championships, the Stuttgart Panthers brought the IMCOM-E trophy back to Stuttgart for the first time in five years.
The Stuttgart Panthers defeated the Stuttgart Saints 19-0 in the final game of the tournament Nov. 8.  The Panthers had advanced through the playoff semi-finals by beating the Wiesbaden Wildcats and the Saints ousted the Wiesbaden Warriors, opening the way for an all Stuttgart showdown in the championship game.
Through most of the first half, both teams traded big offensive and defensive plays, neither team quite being able breach their opponents' end zone.  The Panthers struck first with just under 30 seconds left before halftime as halfback Ben Nix hit wingback Dominic Garcia for an electrifying 97-yard touchdown pass.
"We knew we needed the momentum going into the half" said Panther Head Coach Jason Holder.  "We had several penalties against us and just had a 100 yard interception for a touchdown called back.  It seems like every time I looked at the yard markers it was like first and 30 yards to go."
Defensive back coach Kurtis Garcia had recommended the team try the risky halfback pass and the gambit paid off hugely, according to Holder.
"It was a huge momentum shift for us going into the second half," Holder said.
In the second half, the Panthers offense really found its footing and started to churn out yardage with two more scores from quarterback Jake Holder on an 11-yard quarterback keeper. Then halfback Ben Nix sealed the deal when he ran in for a 35-yard touchdown.
Holder credited the team's success throughout the season not only to the dedication of the players and coaching staff, but also to the supportive community.
"The Stuttgart Child Youth and School Age Services' sports  were there with us the whole way making sure the fields and equipment were always ready for us." he said. "That's a lot of work, so we couldn't have done it without the community support."