Thousands gathered at Patch Barracks for family fun, food and fireworks to celebrate Independence Day July 4.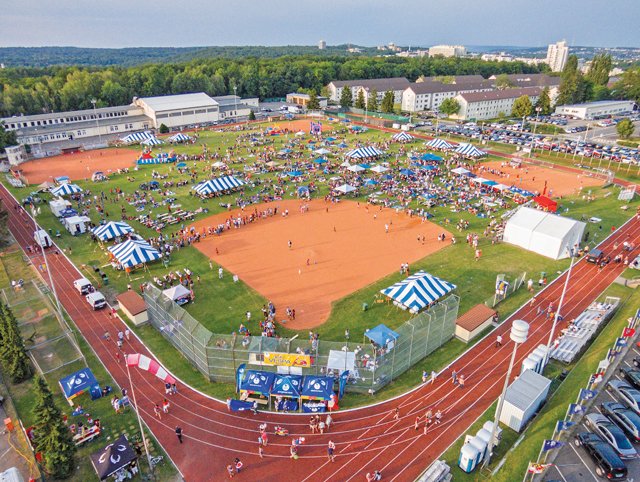 The community's festivities began in the morning with a 5k fun run around the perimeter of Patch Barracks. Participants included everyone from serious runners huffing and puffing the 5k in under 20 minutes, to families with toddlers gleefully traipsing across the finish line some time thereafter.
With many participants clad in red, white and blue, and one even sporting an Uncle Sam top hat, the run was clearly much more a patriotic and fun family event than anything close to a competition.
"It's great to see so many people out here celebrating our independence, and starting the day off the right way; with a run," said Col. John P. Stack, the U.S. Army Garrison Stuttgart commander.
At 4p.m. the main festivities began as Family, Morale, Welfare and Recreation and a number of community organizations set up booths offering food and fun for the whole family. Several organizations were offering homemade barbecue and other traditional American foods. Booths offering games and even a German fest candy-trolley added to the fun air of the event.
Family and MWR held contests and gave away several Vespa scooters to contestants who either filled out a survey or provided a short narrative of what freedom means to them.
Crowds gathered and grew as the afternoon went on into evening, with many groups bringing their own grills to cook out and tents to block the sun (and also provide a little bit of shelter from the occasional drizzle that threatened during the evening).
Centered in front of a rambling small city of tents, armchairs and picnic blankets was a stage from which a number of musical performers added to the celebration by presenting a wide variety of renditions of popular American music.
Despite threatening skies throughout the celebration, the rain never really set in, and when dark fell and the sky lit up with fireworks, the crowds were treated to a spectacular grand finale of the
day's festivities.