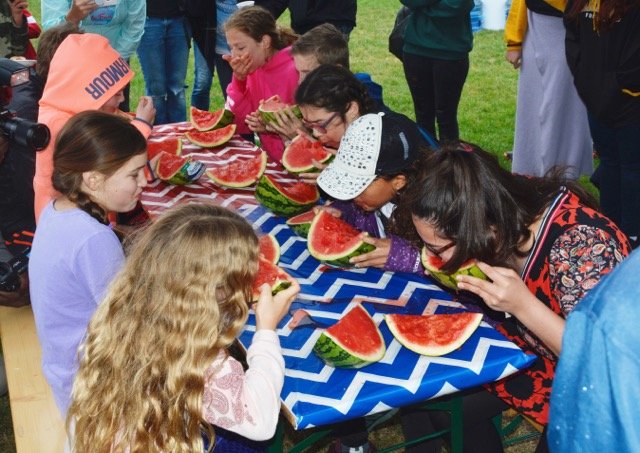 Story and photos by John Reese
USAG Stuttgart Public Affairs
It didn't matter to the hundreds of participants that the USO's 5th annual "Sun & Fun Day," Saturday, Aug. 25, bracketed on Friday and Sunday with warm, sunny weather, dawned cold and rainy.
"We might not have brought the sun, but we definitely brought the fun," said Sarah Kemp, manager, USO Center–Stuttgart.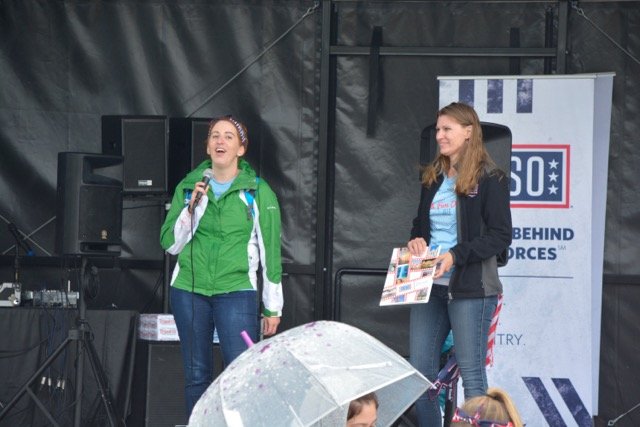 Featuring five different carnival games, some huge inflatable games such as a bungee run (where kids–and a few adults–ran forward as far as they could, seeking to make contact with the game attendants at the end, only to be vigorously yanked backwards; being an inflatable, all of the reversals ended softly) and a giant Velcro soccer ball "dartboard" were very popular, plus garrison and service organizations. The American Red Cross was also present, distributing compact bandage kits and explaining its many services.
"It's great that they're out here just in case anyone needs anything from them," Kemp said.
The day offered more than enough fun despite being wet and chilly.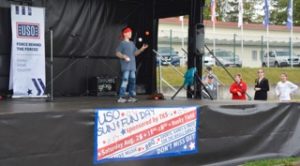 On stage, 10 acts in a talent show by kids under 18 ranged from juggler Alex Crider, who synchronized his act to the theme music from the popular "Pirates of the Caribbean" movies, to Irish step dancer Anya Roeske, to garage band "Dysf(x)al" and solo singers Jordyn Kastelic, Zoe Perry, Mika Taylor and Ella Assouramou. Stephanie Kastelic danced the "Charleston," Nathan Harris strummed ukulele, and the skit "Iron Man and the New Suit" was acted by Soren and Gibson Cantu. The show warmed the hearts of the crowd and provided the day with a ray of sunshine.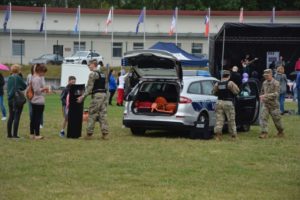 On the field, the 551 Military Police Company put together an obstacle course for kids and let them experience what it's like to sit in the driver's seat of a police cruiser, complete with lights and siren; nearby, the MPs and canines of the 100th Military Working Dog Detachment put on an impressive basic demonstration of obedience.
"There are five phases to it, which are running bite, standoff, search & escort, search and re-attack and false run; the false run is when the person comes in and shows his ID and everything is fine, but the run & bite is when the suspect runs, and search and escort," explained Spec. Benjamin Allison, 100th MWD Det. "The crowd really liked it. For a small turnout (at the Sun & Fun Day), there were a lot of people watching to support us. That was really nice to see."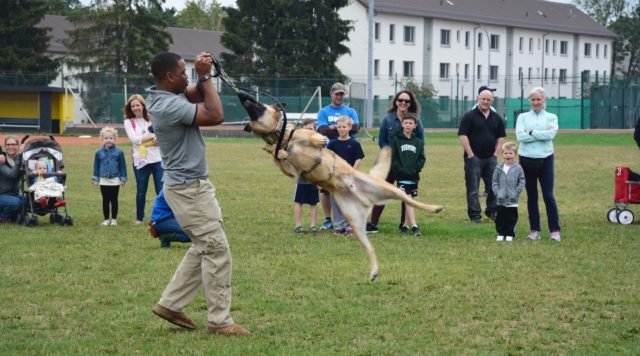 MWD "Sgt." Chango and Allison were recently deployed and they were on shift earlier in the day, beginning at 4 a.m.
"Astor bites hard, but not as hard as Chango," said Allison, who played the bitten suspect. "I've been doing this a lot. Chango is older, but he also has a higher drive for this."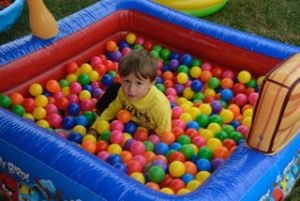 Through a little help from its sponsors, the USO held drawings for prizes such as tour trips, tickets to Europa Park and roundtrip airfare to the U.S. One of the sponsors was a hotel in Poland that was giving away bits of Polish pottery. Between a busy line of people seeking literature and Polish pottery samples, Maria Lindley visited with the manager of the Polish hotel while her husband and children played carnival games; she'd previously stayed at that very hotel and was pleasantly surprised to find its manager on Husky Field.
Lindley and her family enjoyed the day despite the intermittent showers and low temperature. Regarding the inclement weather, the weather hadn't kept the Lindley family from coming
"We are new to Stuttgart–so far, so good," Lindley said, shrugging at the gray skies. "Sometimes (the weather) wins. It's the USO's Sun & Fun event. The sun is gone, but the fun is still here."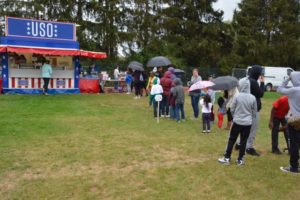 And of course, there was great food (including a watermelon-eating contest that drew a large crowd). As the event got into full swing, the lines for burgers, dogs and cotton candy grew long.
"There's no line for snow cones," a loudspeaker voice boomed across Husky Field.
The line for cotton candy was the longest, even though it had to be kept under an umbrella at points to prevent it from disintegration.
"Cotton candy is popular today," Kemp said. "Snow cones, not so much."
"I want to thank DeCA (Defense Commissary Agency). They have been amazing," Kemp said. "They helped us out with the cake and the delivery of the food. They've been absolutely great helping us pull off this event."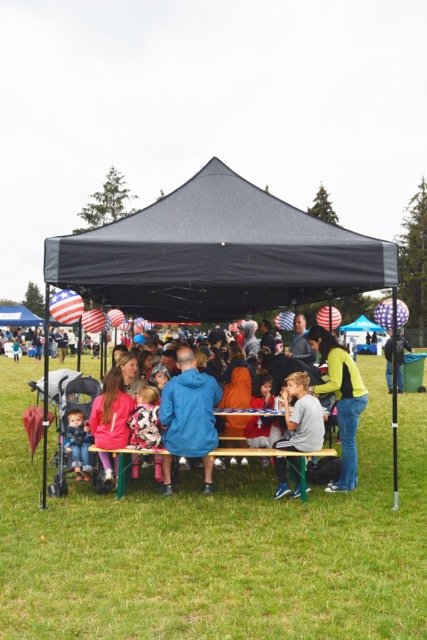 Ten Navy chief selects volunteered to work the food tent.
"We also had some Marine Corps volunteers out here, too," Kemp said. "And all of our USO staff and volunteers. We have 67 volunteers today—67! It is huge!"
At the end, despite a cold and steady downpour, the crowd held on for the drawings and were rewarded with an impromptu hip-hop dance by four well-synchronized Soldiers.