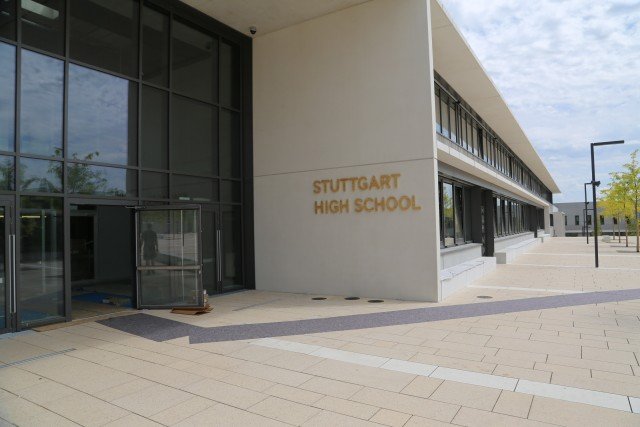 By Jennifer Aldridge
U.S. Army Corps of Engineers Public Affairs
It'll be anything but a typical first day of school for Stuttgart elementary and high school students, parents and educators Sept. 2. Walking onto the campus for the first time, they will see new playgrounds, sports fields and facilities. But it's what they won't see that may be most exciting.
The schools are on track to earn the first U.S. Green Building Council Leadership in Energy & Environmental Design certification for Department of Defense schools in Europe.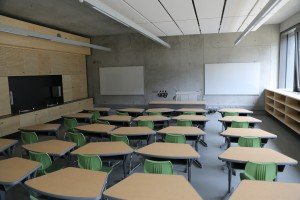 U.S Army Corps of Engineers Europe District, together with Department of Defense Education Activity–Europe, U.S. Army Garrison Stuttgart and the Baden-Wuerttemberg Bauamt, constructed the project with the following sustainable features:
150,000-liter rainwater collection and utilization system to supply outside water hoses and be used for fire extinguishing.
Green roof covering more than 185,000 square feet to reduces stormwater runoff and provides added insulation.
Extensive use of natural light.
Energy-efficient interior lighting system.
Operable windows in all classrooms for utilization of fresh air.
Building is anticipated to save approximately $250,000 in annual energy costs using 40 percent less energy than a baseline building.
Sonja Rodriguez, the Stuttgart Elementary School principal, said amazing things happen in schools designed, constructed and operated with a focus on occupant health and energy efficiency.
"We are excited to lead the DODEA-Europe community in the construction and use of one of the first environmentally friendly, 'green' schools," she said.
To successfully execute the project, German and American engineers partnered to meet rigorous LEED-Silver standards. Many interesting concepts became a reality here, said Jennifer Regel, the Europe District project engineer.
"For instance, the rainwater system and use of concrete mass to hold constant interior temperatures," she said. "Taking these design items from concept on paper, through construction, to a working system takes a lot of thoughtful planning."
The sustainable aspects of the schools provide teachers an opportunity to link curricular components of science, technology, engineering and mathematics with real-world, tangible examples, Rodriguez said.
"They will have a better understanding of the interconnectedness within our school environment and the natural sur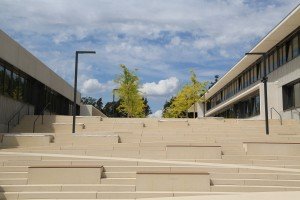 roundings outside the school yard," she said.
The construction of this school campus is another sustainable step forward for U.S. Army Garrison Stuttgart, where a U.S. Africa Command administrative building earned LEED-Silver certification in April and a net-zero planning survey is currently taking place.
Stuttgart is leaning forward to promote energy efficiency and sustainability and this project is another example of the great work being done, said Rich Gifaldi, the district's sustainable engineering manager and LEED-accredited professional for this project.
"With the completion of this school, kids in this community will have a school that conserves energy and water; and provides a classroom environment conducive to learning with natural daylight, low-emitting volatile-organic-compounds interior finishes and plenty of fresh air," he said.