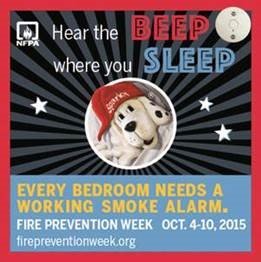 By USAG Stuttgart Safety Office
This year's Fire Prevention Week campaign is to ensure that fire alarms are installed and functioning properly. Install smoke alarms in every bedroom, outside each separate sleeping area, and on every level of your home, including the basement. Larger homes may need more alarms.
All on-post housing buildings are equipped with a fire alarm system that is tested regularly, but if you live off-post, be sure to check your fire alarms! Not all housing on the German local economy come with alarms, or if they have alarms already, make sure to test them or replace the batteries when you move in. Smoke alarms that are properly installed and maintained play a vital role in reducing fire deaths and injuries.
Smoke alarms save lives. If there is a fire in your home, smoke spreads fast and you need smoke alarms to give you time to get out. Having a working smoke alarm cuts the chances of dying in a reported fire in half. Almost two-thirds of home fire deaths resulted from fires in homes with no smoke alarms or no working smoke alarms.
What you need to know:
Install smoke alarms in every bedroom, outside each sleeping area and on every level of your home.
Test your smoke alarms every month.
When a smoke alarm sounds, get outside and stay outside.
Replace all smoke alarms in your home every 10 years
Installing smoke alarms
Choose smoke alarms that have the label of a recognized testing laboratory.

Install smoke alarms inside each bedroom, outside each sleeping area and on every level of the home, including the basement.

On levels without bedrooms, install alarms in the living room (or den or family room) or near the stairway to the upper level, or in both locations.

Smoke alarms installed in the basement should be installed on the ceiling at the bottom of the stairs leading to the next level.

Smoke alarms should be installed at least 10 feet (3 meters) from a cooking appliance to minimize false alarms when cooking.

Mount smoke alarms high on walls or ceilings (remember, smoke rises). Wall-mounted alarms should be installed not more than 12 inches away from the ceiling (to the top of the alarm).

If you have ceilings that are pitched, install the alarm within 3 feet of the peak but not within the apex of the peak (four inches down from the peak).
For more information and tips on fire prevention safety, visit www.nfpa.org.