By Mac Hightower
Stuttgart Citizen volunteer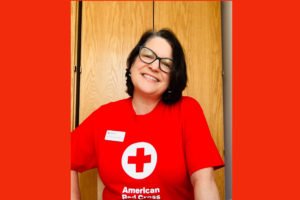 Two years ago, when Melissa McDaniel arrived in Germany, it was the first time she'd moved into a community without her children. McDaniel and her husband, who works at U.S. Africa Command, have been overseas before, but she said it felt harder than previous relocations to integrate into the community.
"With every move I make, I think volunteering is a great way to find a place within a community."
Then, she saw an American Red Cross Facebook post, calling for volunteers, on a group for expatriates.
"We were empty-nesters and I was looking for something productive to spend my time on," McDaniel said. "I saw the post and signed up that day."
McDaniel didn't have a background in medicine or health, but the Red Cross placed her as a caseworker in the Hero Care Network program. Her responsibilities include processing volunteers, emergency care messages, client follow-ups, and helping conduct orientations for new participants. In 2019, she logged 142 hours. Red Cross staff know her for "radiating" the five Red Cross values of compassion, collaboration, creativity, credibility, and commitment.
"I'm just happy to be assisting them in whatever way I can," McDaniel said. "With every move I make, I think volunteering is a great way to find a place within a community."
The Stuttgart American Red Cross has partnered with the Armed Services Blood Program (ASBP) for a blood drive on July 21 & 22.
BY APPOINTMENT ONLY!
July 21 – Stuttgart, Patch Community Club 1000-1800 July 22 – Stuttgart, RB Community Zentrum 0900-1700.
For eligibility check out the American Red Cross, Stuttgart Station's Facebook page!
Make your appointment to save lives. www.militarydonor.com Sponsor Code: Europe