As throngs of people gather on the grass with picnic blankets to enjoy yet another community special event, they are all secretly hoping to be one of the grand prize winners. After all, who wouldn't enjoy a cruise for two to the Mediterranean, a free round-trip ticket to the U.S., a new car or a shiny, new mountain bike? These opportunities are just some of the perks offered by the U.S. Army Garrison Stuttgart Directorate of Family and Morale, Welfare and Recreation.
Family and MWR operates more than 46 facilities across four installations, plus a golf course, in order to provide a wide variety of programs and services for all ages and interest groups.
"Family and MWR is committed to the well-being of the community of people who serve and stand ready to defend the nation," said Andrea Stauffer, marketing director for Family and MWR. "Our goal is to enhance the lives of service members, their families, civilian employees and retirees."
Keeping the military resilient and ready to fight takes more than hard work and training — it takes a balance of work and play. According to Stauffer, that is where Family and MWR fits into the picture.
 "We try to focus our programs on meeting the physical, social, spiritual, emotional and family needs of our military community," she said. "It's all about providing a balance to increase readiness and resiliency so our customers can enjoy all that Europe has to offer while stationed overseas."
Family and MWR employs more than 420 staff members and consists of five divisions that provide a wide variety of services to the community.
Community recreation
The Community Recreation Division provides four fitness centers; two libraries; the Auto Skills Shop that includes a motorcycle repair shop, Speedy Lube and dog wash; Outdoor Recreation; photo studio; Warrior Zone; Broadway Cafe and Brewed Awakenings Cafe; the Robinson Barracks Community Club; Better Opportunities for Single Service Members; and award-winning Stuttgart Theatre Center and Arts and Crafts programs. For detailed locations and hours of all of these services and more, see pages 24-25.
In addition, the recreation division coordinates a number of special community-wide events, such as the Resiliency Carnival; Winter Fest; Community Activities, Registration and Education Fair; and Independence Day celebration. Other special event productions include comedy shows, musical performances and special acts such as Cirque Dreams.
Golf course, clubs, special events center
The Business Operations Division operates the newly renovated, 7,000 yard, 18-hole, par 73 golf course; the 24-lane Galaxy Bowling and Entertainment Center; the Irish Pub; the Java Cafe; and three clubs: Kelley Club, Patch Community Club and Swabian Special Events Center. 
The business division works closely with Army Lodging to provide first-class lodging facilities at both the Panzer and Kelley Hotels, which normally operate with a 95 percent occupancy rate.
Army Community Service
Army Community Service pro-vides resources for real-life solutions and promotes successful military living, according to John Shoupe, the ACS director.
ACS provides assistance and education through Army Emergency Relief, Army Family Action Plan, Army Family Team Building, Volunteer Corps, Employment and Financial Readiness, Family Advocacy, Exceptional Family Member Services, Information, Referral and Follow-Up Program, Outreach Program, Soldier and Family Assistance Center, Military Life Consultants, Mobilization and Deployment Readiness and Relocation Readiness.
"If you need assistance or a resource for just about anything, ACS is there to help" said Shoupe.
ACS is located in Building 2915, Panzer Kaserne.
Child, Youth and School Services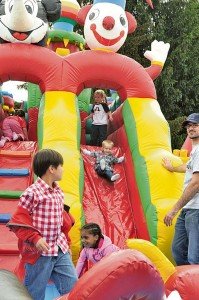 The largest division within Family and MWR is the Child, Youth and School Services division. If you have a child from 6 weeks of age through 18, most likely they will engage with one or more of the services provided by CYS Services.
From the child development centers to Strong Beginnings; part-day preschool, school-age and middle school programs; Schools of Knowledge, Inspiration, Exploration and Skills Unlimited and youth sports, CYS Services provides accredited programs, education, and fun for the whole family.
"We care for the children like they are our own so that parents can focus on the mission while they are at work," said Jamie Ruffini, the CYS Services coordinator "Special after-hours care is frequently provided so that parents can take a break to enjoy other activities taking placing on and off post — a happy balance for everyone."
Non-appropriated funds support
The Non-appropriated Funds Support division maintains the Family and MWR "machine" by providing overhead support in the way of marketing, commercial sponsorship and advertising, finan-cial management, supply and ware-housing functions, internal controls and property accountability, and information technology support for 46 facilities, 236 computers and 49 point-of-sale sites. Many of these areas may seem unglamorous, but they are necessary to ensure all of the programs and services operate without a hitch. 
Often overlooked as a NAF support function, is the Value Added Tax and Utility Tax Avoidance Program (UTAP). See Page 17 for a detailed article on the various tax relief services offered through the VAT and UTAP offices.
Family and MWR serves the community"I never knew just how much Family and MWR does for the community until I started working here," said Javier Carrizosa, a staff member and military spouse."The employees love what they do, and collaborate their strengths and resources to provide amazing events, sometimes at the last minute. It is incredible to see it come together from the inside."