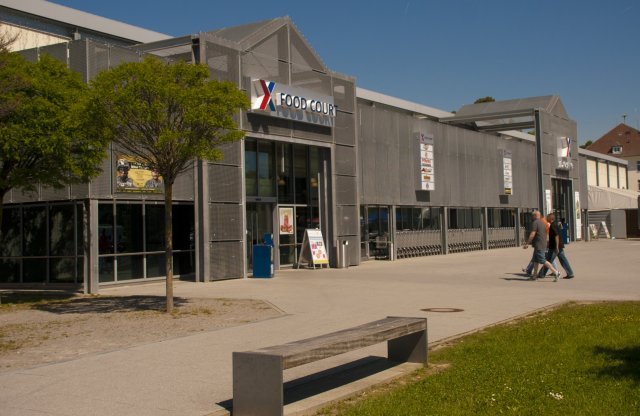 Exchange services across Stuttgart
Information courtesy of the EUCOM Consolidated Exchange
The Exchange (formerly Army and Air Force Exchange Service) offers a wide variety of shopping and services throughout the Stuttgart military community.
The Stuttgart Exchange shopping mall in Building 2903 on Panzer Kaserne boasts 63,000 square feet of retail space. This Exchange, built in 2007, includes a food court offering American fast food favorites such as Burger King, Charley's Grilled Subs, Popeye's Louisiana Kitchen, Pizza Hut and Starbucks.
In addition to the traditional personal services offered at most Exchanges (barber, beauty and nail salon), many concession stores bring a variety of local and international products, foods, and services to Exchange customers in Stuttgart. Sehne Bakery serves a daily variety of fresh and authentic German baked goods. Shop at Käthe Wohlfahrt and find unique handcrafted gifts and souvenirs. Rental vehicles are available at Enterprise Car Rental for those wanting to explore the region's many historic castles and famous sites such as the Black Forest or the Bavarian Alps.
On Patch Barracks, the Exchange food court offers Burger King, Subway and Taco Bell. Sehne Bakery also serves a variety of German baked goods. Concessions include barber, beauty and alteration shops, and a laundry/dry cleaner. Enterprise Car Rental also has an office.
For home furnishings, the expanded furniture store at Robinson Barracks offers ready to assemble desks and chairs; dining room, living room and bedroom sets; rugs; lamps; mattresses and box springs; stationary; automotive; video rental and some seasonal items. Brand names include Bassett, Ashley, Steven Silver, Lane, Franklin, Jackson, United, American Furniture and Coaster.
At the Panzer Car Care and Auto Parts Store, a professional staff of sales and service techs will keep the family mobile by offering basic oil changes, and services on brakes, exhaust, suspension and tires.
At each installation in Stuttgart, there are local Express shops that offer convenient hours of operation and a broad selection of basics for the military and their families.
On-base gas stations at Kelley Barracks and Patch Barracks are co-located with the Express shops.
The Patch Reel Time Theater features weekday, evening and weekend matinee showings of the latest in cinema entertainment, including 3D films.
To discover all the Exchange opportunities throughout the Stuttgart area, movie listings and information on services and hours, visit www.shopmyexchange.com or call civ. 07031-20420.