Editor's Note: Content provided exclusively by AdvantiPro, publisher of The Citizen and Military in Germany. No Federal endorsement implied.

By Katie F. Boltuch
Contributing writer
One of the last things anyone wants to do in the summer is cook big, heavy and complicated meals. It's hot, it's humid, and what you really want is to relax. If you're tired of the usual barbecue fare and need some lighter menu ideas, look no further.
---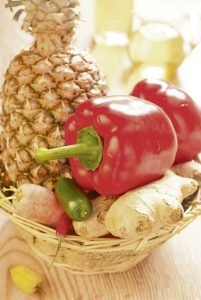 APPETIZER
Pineapple-Ginger-Habanero Salsa
This refreshing salsa is a nice variation of the traditional version, with a little extra kick!
Start to finish: 10 minutes
Servings: 8
• 2 pineapples
• 4 teaspoons ginger, grated
• 4 green onions, thinly sliced
• Juice of 2 limes
• 2 small red onions, finely diced
• 1/2 to 1 habanero chili, minced (depending on what kind of heat you want)
• Splash canola oil
• Kosher salt
• Black pepper, freshly ground
• Corn tortilla or plantain chips, for serving
Slice the pineapples and grill or roast until just tender. Dice the cooked pineapple.
Toss the pineapple, ginger, green onions, lime juice, red onions, chili and oil in a large bowl.
Season with salt and pepper. Serve with tortilla or plantain chips.
(Recipe from www.FoodNetwork.com)
---
SALAD
Grilled Watermelon Salad
Grilled Watermelon? In a salad? It's different, but it is worth it. Guaranteed to be one of the most refreshing salads you'll have this summer.
Start to finish: 15 minutes
Servings: 4
• 1/2 seedless watermelon
• 1/4 cup balsamic vinegar
• Extra-virgin olive oil
• Kosher salt
• 2 cups baby arugula, washed and dried
• 1 cup goat cheese, crumbled
• Black pepper, finely cracked
Stand the watermelon half cut side down on a cutting board and slice away the rind, leaving a solid block of melon. Turn the block on its side and cut it into 8 squares, roughly 3 by 3 inches and 1-inch thick.
Pour the vinegar into a small saucepan and bring to a simmer over medium-high heat. Cook until reduced to a thick syrup consistency. Set aside.
Heat a nonstick grill pan over medium-high heat. Drizzle just enough olive oil over watermelon slices to thinly coat and place on hot grill pan. Grill each side for about 2 minutes until grill marks appear. Transfer to a plate and season with salt.
To assemble the individual servings of salad, put about 1/4 cup of baby arugula on a small plate, followed by a grilled slice of watermelon in the center and top with a tablespoon of crumbled cheese and another 1/4 cup arugula. Add another watermelon slice and another tablespoon of cheese. Repeat with remaining ingredients.
Finish each salad with a very light drizzle of olive oil and balsamic syrup. Dust with black pepper and serve immediately.
(Recipe from www.FoodNetwork.com)
---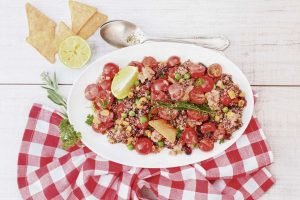 SIDE DISH
Quinoa with Corn, Tomatoes, Avocado and Lime
Quinoa, pronounced keen-wah, is a high-protein seed that has a fluffy, slightly crunchy texture. You can make this salad a day ahead of time, just be sure to add the avocado at the last minute to avoid discoloring.
Start to finish: 45 minutes
Servings: 4
• 2 tablespoons olive oil, divided in half
• 1/2 cup yellow onion from 1 small onion, chopped
• 1 cup pre-washed quinoa
• 1 2/3 cups vegetable broth, low sodium
• 1 teaspoon salt, divided in half
• 1 cup tomatoes from 2 medium tomatoes, chopped
• 1 1/4 cup fresh cut corn from 2 cobs, cooked
• 2 scallions, white and green parts, finely sliced
• 1 small jalapeno pepper, seeded and finely chopped
• 1/3 cup fresh cilantro, chopped
• 2 tablespoons lime juice from 1 large lime
• 1 avocado, cut into bite-sized chunks
Heat 1 tablespoon olive oil in a medium saucepan over medium-low heat. Add onions and cook, stirring frequently, until soft and translucent, about 5 minutes.
Add quinoa to onions and continue cooking, stirring constantly, for 3 to 4 minutes. Add vegetable broth and stir in 1/2 teaspoon salt. Turn heat up to high and bring to a boil.
Cover pan tightly with lid, turn heat down to low and simmer for 17 to 20 minutes, until liquid is absorbed and quinoa is cooked. Transfer cooked quinoa to mixing bowl and chill in refrigerator.
When quinoa is cool, add remaining tablespoon of olive oil, tomatoes, corn, scallions, jalapeno, cilantro, remaining 1/2 teaspoon salt and lime juice. Taste and adjust seasoning if necessary.
Right before serving, scatter avocado chunks over top.
(Recipe from www.SeriousEats.com)
---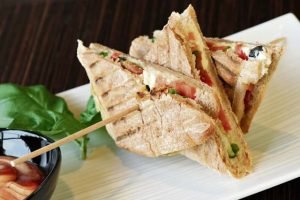 MAIN COURSE
Grilled Mediterranean Vegetable Sandwiches
Even if you're a skeptic of vegetable sandwiches, you'll love the meatiness of the portobello and the tang from the feta. For a vegan-friendly option, replace feta with cashew cheese and regular mayonnaise with vegenaise.
Start to finish: 30 minutes
Servings: 4
• 1/4 cup mayonnaise
• 2 cloves garlic, minced
• 1/2 teaspoon lemon juice
• 2 small zucchini, thinly sliced lengthwise
• 2 portobello mushrooms, sliced 1/4-inch thick
• 1 eggplant, sliced 1/4-inch thick
• 2 tablespoons olive oil
• 1/2 teaspoon kosher salt
• 3/4 of a 1-pound ciabatta loaf, split horizontally
• 2 ounces feta cheese, crumbled (1/2 cup)
• 2 medium tomatoes, sliced
• 2 cups baby arugula
Heat a grill to high, about 450 F to 550 F.
Mix mayonnaise, garlic and lemon juice together. Set aside.
Brush zucchini, mushrooms and eggplant with oil and sprinkle with salt. Grill, turning once, until softened and grill marks appear, about 3 minutes.
Grill bread cut side down just until grill marks start to appear, 2 minutes.
Cut each loaf half into 4 pieces. Spread bottoms with mayo and smear tops with cheese. Make sandwiches with vegetables, tomatoes and arugula.
(Recipe from June 2012 issue of Sunset)
---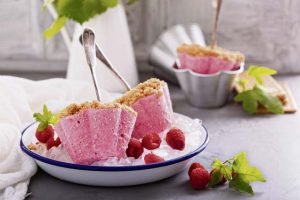 DESSERT
Strawberry Cheesecake Pops
A frosty twist on cheesecake.
Start to finish: 4 hours
Servings: 6
• 5-ounce can evaporated low-fat milk
• 1/4 cup sugar
• 3 ounces 1/3-less-fat cream cheese, softened
• 1/4 cup plain fat-free Greek yogurt
• 1 teaspoon vanilla extract
• 3 tablespoons light-colored corn syrup
• 1 teaspoon lemon juice
• 10 ounces strawberries, hulled
• 1/4 cup graham cracker crumbs
Combine milk and sugar in a saucepan over medium heat and cook for 3 minutes.
Place cream cheese in a medium bowl and gradually add milk mixture, whisking until smooth. Stir in yogurt and vanilla. Cool completely.
Place corn syrup, lemon juice and berries in a blender; process until smooth.
Divide half of the cream cheese mixture among six 4-ounce ice-pop molds. Add strawberry mixture, then top with remaining cream cheese mixture. Stir slightly with a skewer. Freeze 4 hours or until solid.
Remove ice pops from molds and dip tips in graham cracker crumbs before serving.
(Recipe from June 2015 issue of Cooking Light)
---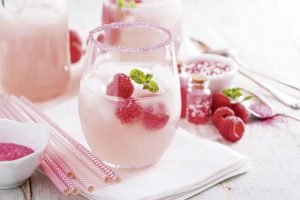 DRINK
Easy Raspberry Lemonade
A small but spectacular variation on a summer staple.
Start to finish: 5 minutes
Servings: 8
• 12-fluid-ounce can frozen raspberry lemonade concentrate
• 3 cups water
• 3/4 teaspoon lime juice
• 12-fluid-ounce can or bottle lemon-lime carbonated beverage
• 1 cup ice, crushed
• 1 cup fresh raspberries
• 18 mint leaves, optional
In a large punch bowl, combine raspberry lemonade concentrate, water and lime juice.
Stir in lemon-lime soda and crushed ice. Garnish each glass with a fresh raspberry and a mint leaf.
(Recipe from www.AllRecipes.com)