Among other things, Germany is well-known for is the world famous autobahn. The autobahn is not one single roadway, but a network of roadways very similar to the U.S. interstate highway system. While speeds are typically much higher on the autobahn, it is not the free-for-all raceway many Americans envision. Incoming personnel to Germany may be anxious to get behind the wheel and start zipping across Europe on this famous highway system, but before they do, there are a few things to be aware of when driving specifically in Stuttgart and through Germany.
Stuttgart is nicknamed "Stau-gart"

Stau (sh-tau) in German means stay. In traffic terms, that means heavy, non-moving traffic. Stuttgart is reportedly the worst area for traffic in the country. This fact automatically crushes any preconceived thoughts people may have about driving a sports car here. Stuttgart is a large city with a population of about five million and network of small villages surrounding downtown. The city is situated in a valley with single and double lane tunnels to get in and out. Grid-lock is a guarantee during the school year and normal work week. The least congested traffic times during the year are German holidays and summer vacation.
Beware of the flash!
The amount of traffic speed cameras are another surprise to newcomers which keeps the speed of any smart driver to the posted speed limit. In the city, and surrounding villages, the average speed limit is 50 km. That's only about 30 miles per hour. There are mobile apps that can help identify camera locations. However, Polizei frequently setup mobile vehicles and cameras. U.S. Army Europe regulation (AER190-1) is strict on U.S. ID cardholder traffic violations. It's best to pay attention, and watch the speedometer to avoid losing driving privileges.
Learn more about driver rules at the USAREUR Registry of Motor Vehicles' website: www.eur.army.mil/rmv or review the drivers handbook at www.hqusareur.army.mil/rmv/drivers_handbook.htm.
Popular means of transportation in Stuttgart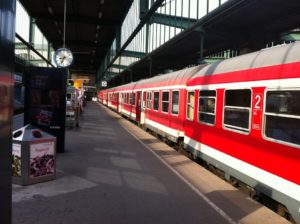 Public transit trains and buses – The underground, above ground and regional express train systems and buses in Germany and throughout Europe are fantastic. With mobile apps (VVS or SSB) that are available in English, tickets are easily booked using a credit card to and from any address.
Taxi's – In addition to the public transit system, taxi's are also bookable via the mytaxi app with a credit card account or cash. The app can also provide users with the estimated cost of the journey before booking. Once booked, users can see the taxi cabs exact location and arrival. The Panzer and Kelley Hotels can also assist in providing contacts for taxi services. Note: Many taxi drivers are not authorized to come on-post. People must meet or be dropped off at the main gates.
Car2Go – For short trips, or alternative options to the airport there is also Car2Go. There are similar services in cities in the U.S. as well as other European countries. In Stuttgart, Car2Go labeled electric cars available to be reserved and driven by the public via a mobile app reservation. To get started, users must register one time at a local Car2Go office to verify driver information. Take a passport, USAREUR drivers license and U.S. license to any of their  locations and pay the minimal one-time worldwide registration fee. Download the mobile app, and connect your credit card for payment. The car car can be reserved 30 minutes in advance and unlocked through the app. Costs are calculated by time and distance. For more information, visit www.car2go.com/DE/en/stuttgart.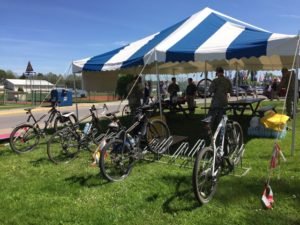 Bicycle – Throughout Stuttgart there are several areas to bike. Bike to Work Week is an event held each spring on-post to assist cyclists with identifying safe bike routes for leisure or an easier commute to and from work. The City of Stuttgart is surrounded by wine hills and historic trails. Search the term 'Radweg' in Germany to find more information, maps and a variety of mobile apps.
Deutsche Bahn also has more than 40 "Call a Bike" city bike rental stations located at throughout Stuttgart.
Register once free of charge on the website, via the mobile app or at one of the terminals. The first 30 minutes are free of charge and then the cost is 1 euro per half hour.
Call a Bike service hotline: +49 (0) 69 – 42 72 77-22.

Editor's Note: Information within this article is for informational purposes; no federal endorsement is implied.