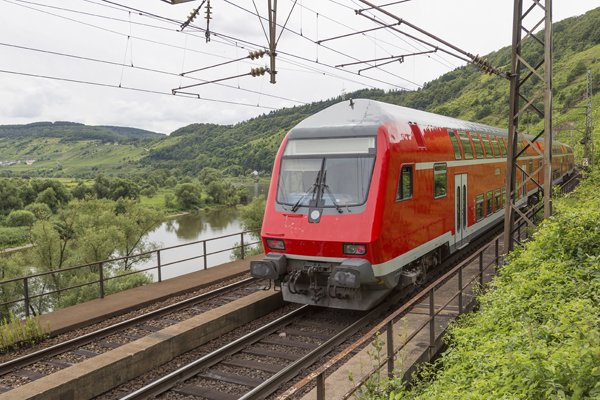 Compiled by USAG Stuttgart Public Affairs Office
Public transport in Germany and throughout Europe is the ideal way to travel. The German transit system services a vast, extensive network of stations stops that are accessible, most within walking distance, of almost everywhere within the Stuttgart area.
There are three levels of transit services that work together to connect to nearly every city, town, or village in Germany. Stops and stations may be serviced by multiple transit agencies or just a single company, mainly called VerkehrsVerbund Stuttgart, or VVS that operates S-Bahn lines, U-Bahn lines, Strassenbahn (streetcar) and a variety of bus lines.
The Deutsche Bahn system or DB, where you can book through the Bahn office using a VAT tax form, or online for long distance travel and express trains between cities and bordering countries such as France and Austria.
S-Bahn red trains, for mid-distance and express service within the region.
The local U-Bahn yellow trains, and city buses are also partially serviced by Deutsche Bahn to provide localized transport between cities and stations within in the region. Service routes range from Weil der Stadt to Rudersberg Oberndorf and Ludwigsburg to Filderstadt.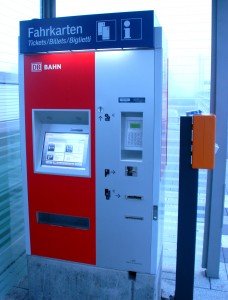 How to buy a train ticket in Germany
Download the VVS or SSB mobile ticket and train schedule app
The more favorable option is to download the VVS or SSB mobile app. There you can set up an account which stores your credit card information to purchase tickets on the go. Once purchased, the app stores a bar code which can be shown to ticket checkers to scan by request as proof of purchase. An email receipt is also automatically sent to you as an alternate proof of purchase including the barcode. Just be sure to keep your phone charged while you're on the train.
Ticket machines on the platform or in the station
For ticketing information on local and regional trains, ticket machines are available at each station stop to purchase a paper ticket. While some have a touch screen interface, many older platform machines have codes to enter in to determine your zone and ticket type. (more on navigating zones below).
Tip: Not all machines may accept credit cards so it is always recommended to carry euro, or use the mobile app which can link to your credit card.
Ticket machines at most train stations not only sell tickets but also offer information about schedules, delays and services available. Travelers can also print up a travel itinerary free of charge.
Navigating the transit systems (insert map picture of zones)
Transit line maps are available at station platforms, online and within the mobile apps.
Zones
Local train travel in Stuttgart is broken down by zones and are generally learned as you go.
Examples traveling to downtown Stuttgart:
From Boeblingen (Near Panzer Kaserne): 4 zones
From Vaihingen (Near Patch Barracks): 3 zones
From Moeringen (Near Kelley Barracks): 2 zones
From Robinson Barracks area stations: 2 zones
From downtown Stuttgart, Hauptbanhof main station to the Stuttgart Airport: 3 zones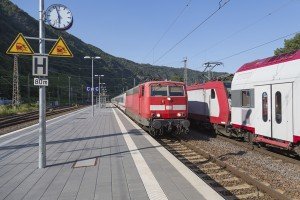 The honor system
The entire DB network and most of the regional networks operate on the honor system. Travelers purchase tickets and step onto the train without a gate or an attendant checking the ticket upon entry. Passengers with paper tickets must stamp their ticket on the train when using U-Bahn local transit, or at the station platform or entrance to the train station when taking S-Bahn or regional trains. If a person is caught by Bahn train staff without a valid ticket or having stamped their ticket, it will result in fines.
Attendants do patrol the trains and check for tickets at various unpredictable times and intervals, and the fines for riding without a ticket can be very hefty. It is important for travelers to make sure they have valid tickets for each and every trip, no matter how short.
Tip: Occasionally ticket machines may be inoperable so aside from using the mobile app, buy some of the four-pass paper tickets in advance to keep on hand, especially when visitors are in town.  They are good unstamped for one year and transferable to anyone.
Not all tickets are created equal
The key to car-free European adventures is knowing your options and how to get the local deals.
4-pass paper ticket available at machines: Ticket is good for four train rides within the purchased zones. Unstamped tickets are good for one year.
Short-trip ticket – for passengers traveling within under three U-Bahn stops.
Day ticket – available on all local trains within a selected zone, all day.
Group day ticket – one ticket price, good for more than one person, up to 5 people.
Though it sounds easy enough, simply buying a ticket, when combined with the language barrier and the not-so-consistent ticket machines, can be overwhelming. When all else fails, ask the experts to help you get started.
Several bread-and-butter deals are always available at the ticket kiosks. The following are by no means an exhaustive list, but should get travelers off on the right foot.
Longer distances: Online or at the Bahn Office
For offers and ticketing information, go to www.db.de, an English version of the website is available by clicking the word "Deutsch" next to the German flag, and selecting English from the drop-down menu.
The Bahn office is located at the Hauptbanhoff Stuttgart main station downtown, and also in the main stations in Vaihingen near Patch Barracks, and the Boeblingen station near Panzer Kaserne. Agents there can help you find the best fares travel. You can also purchase weekly, monthly and yearly local train passes. The Bahn offices accept Value Added Tax (VAT) forms, used best when booking more costly trips or multiple trips at once.
Note: there is a two-euro fee for purchasing through the in-person Bahn office, but it is a small price to pay when you consider the time you save, and the available use of a VAT form.
Bahn cards
Bahn cards are a fantastic deal for travelers who use the train frequently, but often the Bahn card proves its worth on the first purchase. Before purchasing a ticket to travel outside of Stuttgart, ask about how getting a Bahn 25 or 50 would affect the price.
Bahn 25: Travelers get 25 percent off all regular and saver fares. DB often publishes trial offers, like a Bahn 25 card for 19 euros that is valid for three months or similar promotions you can use to test out if buying a card for the year is worth it to you or not.
Bahn 50: Travelers receive 50 percent off all regular fare purchases (but not saver fares). Best for travelers who use the train several times each month outside of Stuttgart.
Although there's no substitute for good advance planning, many of the standing ticket offers through Deutsche Bahn provide flexibility for the spontaneous traveler. Taking the train offers several benefits and can even be a viable, inexpensive option when traveling in a group.
Sure, in some cases a car will get you there quicker, but getting there faster isn't always the best way to travel.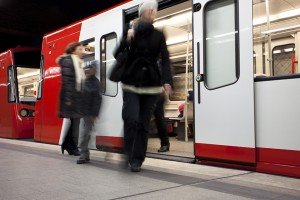 Exploring your backyard
Baden-Württemberg Regional Ticket
Perfect for day trips on regional trains including the S-Bahn with a group of friends or even last-minute solo traveling. The ticket is good for up to five people; 23 euros for one person, 5 euros for each additional traveler.
Tip: BW tickets apply to regional trains (not ICE) and your train must depart after 9 a.m. on weekdays. In addition, always ensure your train will arrive before your ticket expires, and don't forget to write your name on the ticket.
The All-Germany Ticket: Quer-durchs-Land and Schönes-Wochenende Ticket
The Quer-durch-Land, or "across the country" ticket offers unlimited regional train travel for one day throughout Germany, Monday-Friday. Like the BW Pass, it's good for up to five people; 44 euros for one person, 8 euros for each additional traveler. With the Schönes-Wochenende, or "beautiful weekend" ticket, travel on a Saturday or Sunday for 40 euros for the first person, 4 euros for each additional traveler. So five people can travel all day around Germany for under 100 euros.