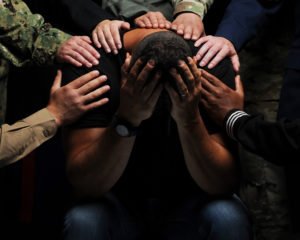 By Lt. Col. Grace R. Hollis
Deputy Garrison Chaplain
U.S. Army Garrison Stuttgart
At a time such as this, we are hard-pressed on every side fighting the invisible enemy called COVID-19. I would venture to say that there is not one person reading this article who has not been impacted by the pandemic.
We wear our masks, wash our hands, practice social distancing and, at times, temporarily quarantine as a preventative measure to combat coronavirus. These measures have proven to work.
To those who follow the COVID-19 prevention plan … thank you for your diligence, for helping us to win the battle. But, I submit to you that there is yet another seemingly invisible enemy that we must fight against — suicide.
What prevention measures are you taking against this enemy? What guidelines are you following to combat suicide? Quarantining yourself from this topic is not the answer.
Don't Give Up! Invest in yourself and the bright future that is waiting for you.
If you are feeling overwhelmed, this is not the time to distance yourself from the help you need to survive. I implore you, brothers and sisters — and I do call you brothers and sisters, whether you are a religious person or not.
Whether you are black, white, brown or a combination. Whether you are Army, Navy, Air Force, Marine, active-duty, reserve, veteran, family member, DOD civilian or local national — I think of you all as a brother or sister. We are our brother's keeper.
Don't Give Up!
I do not write to you as a novice when it comes to fighting suicide. I write from experience. Yes! I too have fought the good fight against the invisible enemy called suicide … and won to live and tell you about it. The weapons I used, or rather, my prevention plan was found in reaching out to others for help. I took hold of the resources around me, such as behavioral health professionals, family members, fellow chaplains and friends.
I learned that help from God can come in a variety of ways. We just need to see it that way — as help. I was worth fighting for … and so are you.
Sometimes, however, you have to take the fight to the enemy. What do I mean? If you are feeling depressed, have thoughts of suicide or thoughts of harming yourself — know that you may have to take the first step and fight for yourself. Fight by telling someone. Fight by visiting behavioral health. Fight by seeing a chaplain or counselor. Fight by dialing the Suicide Crisis Line (0800-111-0111). Fight by telling a friend, battle buddy or family member. Let them know that you need help.
For those of you who may say, "Wow, chaplain you needed counseling."
Perhaps you know of someone who needs counseling. I got mine, what about you? I reached out, what about you? I took hold of my destiny, what about you? I changed the trajectory of my life and thank God I lived to tell you — all things are possible.
Don't forfeit what God wants to give you: "For I know the plans I have for you, declares the Lord, plans to prosper you and not to harm you, plans to give you hope and a future" (Jer 29:11 NIV). So, don't give up.
While we hide behind the mask we wear to prevent being infected by COVID — I am asking you to take the mask of suicide off and let someone know you need help. Invest in yourself and the bright future that is waiting for you. There are some things that must be worked out with a professional by your side.
There are some things that you will have to "walk-out of" in order to "walk-in to" a future filled with hope and possibilities, so don't give up. Get the help you need.
I am a witness. It's worth it. You are not reading this article by happenstance or coincidence — God will give you beauty for ashes, the oil of joy instead of mourning, and a garment of praise instead of a spirit of despair.