What's in a battery?
Batteries contain heavy metals such as nickel, cadmium, lithium, lead and mercury.
Battery disposal
When disposing of larger batteries, such as car batteries, either return them to the dealer where they were originally purchased or take them to AAFES Car Care Center on Panzer Kaserne. Appointments can also be made for disposal with respective installation coordinators.
For household batteries, like those used in everyday devices, drop them in collection containers located at the following locations:
Patch, Panzer and Kelley Commissary
Patch and Kelley Post Office
Panzer Exchange
Robinson Barracks AAFES Furniture Mart
Patch and Kelley Gas Station
All Fitness Centers
Stuttgart Army Airfield, Building 3255
Panzer AAFES Shopette
Panzer Reuse Center, Building 2958
It is prohibited by German law to dispose of batteries in regular household trash. Batteries are hazardous waste, composed of heavy metals that can contaminate groundwater when dumped in landfills. These metals can get into the water supply, affecting humans and animals.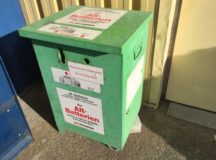 Instead of disposing batteries into the regular trash, use the special containers found around installations of the Stuttgart community. These collection boxes on post enable the recovery and reuse of valuable raw heavy metals. Containers like these protect the environment by enabling separate collection instead of ending up in a landfill. Also, shops on the local economy that sell batteries are required by German law to provide battery recycling information and a collection box.  Those collection boxes are generally for small, dry-cell batteries, and are usually placed near the entrance.
Protect the environment by avoiding disposable batteries
Before you purchase that battery-operated device, consider ways to avoid battery use in the first place. Ask yourself if you really need that battery powered item. Do children's shoes need to flash? Does the stuffed animal need to speak? Must the greeting card sing?
Think about rechargeable batteries and avoid nickel cadmium types, since they contain toxic cadmium. These can be used over a long time period if properly charged.
Solar powered devices, like calculators, watches or lamps, save money and don't need batteries at all. Be environmentally responsible and dispose of old batteries properly.
For contact information and to learn more about the proper way to sort and dispose of household waste, check out the installation recycling guide: www.stuttgart.army.mil/pdf/trash/InstallationRecycling.pdf.