By Paul Hughes
U.S. Army Garrison Stuttgart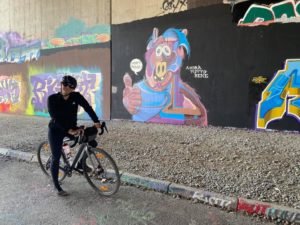 For some, cycling to work has been the norm for quite some time, but during the COVID-19 pandemic it has become an increasingly popular alternative means of getting to work.
As people gradually return to the workplace, infrastructure experts are concerned that commuters will choose to drive rather than risk the crowds that may come with public transportation, increasing traffic on the inner city roads and autobahns.
Local authorities, however, also see this time as a perfect opportunity to promote cycling as a healthy way to commute—one that's not only good for the rider but also good for the environment.
"Cycling is a great way to stay healthy and is a suitable alternative to gyms, many of which had to close during the worse of the COVID-19 outbreak," said Sebastian Ibold of the Transformative Urban Mobility Initiative. "Cycling is also an effective way to support social distancing and to relieve traffic congestion, and the burden on public transport."
Diana Lopez-Hansen, a graphic art designer with Stuttgart FMWR, lives on Panzer Kaserne and commutes daily by bike to Kelley Barracks.
"I love the feeling of exercising first thing in the morning, especially right before work. It energizes me, I save on gas and its good for the environment," said Lopez-Hansen.

A large part of her commute utilizes the recently modernized five-mile long old tank trail. Now completely closed to vehicular traffic, it travels through the woods next to the training area between Panzer Kaserne and Patch barracks.
"There's never any cars and for the rest of the ride to Kelley there are cycle lanes," said Lopez-Hansen. There's perhaps only 200 meters where there isn't a bike path."
While Panzer Kaserne and Patch Barracks are practically joined by this "cycle super highway," Kelley Barracks is also accessible from the same vast cycle network.
Other communities benefit from this network, as well. Southwest of Panzer Kaserne a network of bike paths now link the towns of Gärtringen, Ehningen, Nufringen and Herrenberg to Böblingen. It provides a safe, mostly flat route that connects the towns to Panzer Kaserne, and then—using the old tank trail—to Patch and Kelley.
Websites such as bikemap.net or apps like komoot are great sources to find the perfect  commuting route from home to the office. For those wanting to test the process out before buying, Outdoor Recreation rents bicycles for as little as $23.
For more information, visit https://stuttgart. armymwr.com/programs/outdoor-recreation