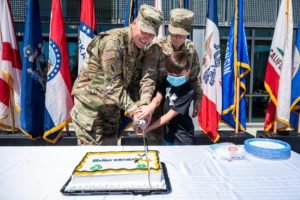 By Col. Matt Ziglar
USAG Stuttgart Commander
The past 16 months have been challenging. COVID-19 had not only forced us to physically separate in Germany, it had made the gulf between here and home in the states feel almost infinite. But you, the Stuttgart Military Community, are a resilient bunch. Not only did you do the right thing and hunker down when the coronavirus brought the world to a standstill, you did the right thing when hope arrived in the form of a vaccine, and lined up for the shot. On New Year's Eve the first few vaccines reached our health care professionals, and now by the time of this publication, more than a thousand of our kids from the ages 12-17 will be fully vaccinated. Read that again: not just the first dose, fully vaccinated!
This is why I'm glad to live here. The opportunity that Meghan and I have in sharing a community with some of the smartest, bravest and most compassionate people this Earth has to offer, is one we wouldn't trade for the world. This is also why I'm proud that my first words in the Stuttgart Citizen magazine as U.S. Army Garrison Stuttgart's Commander are about returning this post back to normal. Not just because you deserve it, but because you have earned it. We're walking indoors without masks, we're dining in (not out!), and we're watching musicals at the Stuttgart Theatre Center. And on the 4th of July we all joined together on the Panzer parade field to watch an amazing fireworks show — a raw display of American freedom that I hope resonated a little more with all of us this year.
This is just the beginning of our road toward normalcy, but I ask you to remain ever vigilant. If you haven't vaccinated yet, please do, they're safe and effective. We need to keep this ball rolling, so again, don't hesitate, vaccinate.
I'm glad I live here, and I look forward to the next two years serving you as your garrison commander.