By Marcus Fichtl
USAG Stuttgart Public Affairs
Stuttgart High School's class of 2021 walked from their cars and across the stage in an outdoor, drive-in graduation Wednesday that's become a rite of passage for pandemic-era seniors.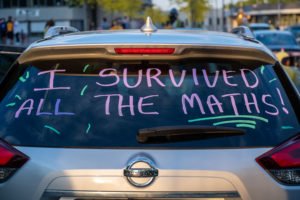 "In a year where we spent Friday nights watching reruns, birthday parties in quarantine, and saved all the money we would be partying with at fests – we learned how to work hard," Co-Valedictorian Bettina Wagner said while addressing her fellow "Panther" graduates.
She said they worked hard at staying connected, preparing for their future, and asking each other if they were OK. Wagner said the year in some ways was almost romantic and in other ways Tarantino-esque with a three-month quarantine plot twist and a mysterious cast dressed in masks.
"It was still a classic, because it was our senior year," Wagner said.
The evening began with a procession of the class' 180 graduates, dressed in black gowns and gold shawls, zig-zagging between the audience of cars. Parents honked horns, flashed lights, and younger siblings took to car roofs for a better view of their graduating older brother or sister.
This year's class was born entirely in the COVID-19 pandemic, and with the rise of vaccines, hopefully the last. The seniors dubbed themselves the "Masked Class," as the facial coverings had become the norm since school doors opened nine-months ago. With social distancing, masking and online learning, even the senior prank went virtual as unnamed digital tricksters changed the school's Wikipedia home from Stuttgart, Germany to Flavortown, USA with chef Guy Fieri as its principal and SpongeBob SquarePants as its vice.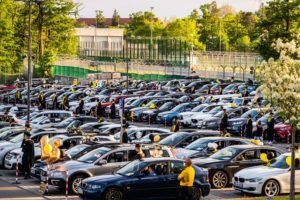 Maya Carter called graduation night "bittersweet."
"I'm excited for a new adventure, but I'm sad to end this one," the future Syracuse student said. She believes the can-do attitude of military children is what drove 2021's class across the finish line.
For Trae Graham-Wright his new adventure will begin later this month when he dons Army greens and reports to Fort Sill, Oklahoma for Basic Training. He thanked his mom for some tough love over the past year.
"My grades were terrible this year," he said. "If she wasn't on my case about it I probably wouldn't have graduated."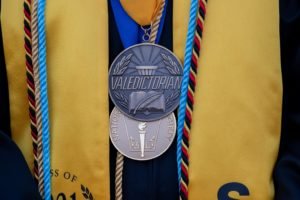 Elzbieta Donohew, who's heading off to Hillsborough Community College in Florida to become a dental hygienist, thanked her teachers for being right there next to them– if sometimes virtually.
"A lot of teachers were willing to change schedules and work with us," she said. "Having amazing teachers really helped make the experience of quarantine and lockdown still special."
After the confetti is swept away, the once skyward graduation caps picked up, and the last car leaves the graduation parking lot, Wagner hopes her fellow graduates will remember the hard work they put in and the bonds they formed.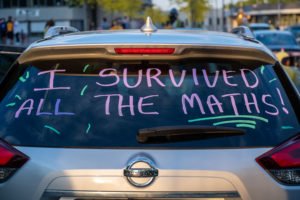 "Maybe the world doesn't owe us anything, but we owe ourselves quite a bit," Wagner said. "I hope that when we think of high school we remember what we did for each other."