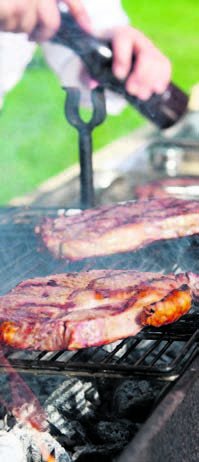 Information courtesy of the United States Department of Agriculture Food Safety and Inspection Service
Cooking outdoors was once only a summer activity shared with family and friends. Now more than half of Americans say they are cooking outdoors year round. So whether the snow is blowing or the sun is shining brightly, it's important to follow food safety guidelines to prevent harmful bacteria from multiplying and causing foodborne illness. Use these simple guidelines for grilling food safely.
From the store: head home first
When shopping, buy cold food like meat and poultry last, right before checkout. Separate raw meat and poultry from other food in your shopping cart. To guard against cross-contamination — which can happen when raw meat or poultry juices drip on other food — put packages of raw meat and poultry into plastic bags.
Plan to drive directly home from the grocery store. You may want to take a cooler with ice for perishables. Always refrigerate perishable food within 2 hours. Refrigerate within 1 hour when the temperature is above 90 °F.
At home, place meat and poultry in the refrigerator immediately. Freeze poultry and ground meat that won't be used in 1 or 2 days; freeze other meat within 4 to 5 days.
Thaw safely
Completely thaw meat and poultry before grilling so it cooks more evenly. Use the refrigerator for slow, safe thawing or thaw sealed packages in cold water. For quicker thawing, you can microwave defrost if the food will be placed immediately on the grill.
Marinating
A marinade is a savory, acidic sauce in which a food is soaked to enrich its flavor or to tenderize it. Marinate food in the refrigerator, not on the counter. Poultry and cubed meat or stew meat can be marinated up to 2 days. Beef, veal, pork, and lamb roasts, chops, and steaks may be marinated up to 5 days. If some of the marinade is to be used as a sauce on the cooked food, reserve a portion of the marinade before putting raw meat and poultry in it. However, if the marinade used on raw meat or poultry is to be reused, make sure to let it come to a boil first to destroy any harmful bacteria.
Cook thoroughly
Cook food to a safe minimum internal temperature to destroy harmful bacteria. Meat and poultry cooked on a grill often browns very fast on the outside. Use a food thermometer to be sure the food has reached a safe minimum internal temperature.
Meats
Cook all raw beef, pork, lamb and veal steaks, chops, and roasts to a minimum internal temperature of 145 °F as measured with a food thermometer before removing meat from the heat source. For safety and quality, allow meat to rest for at least three minutes before carving or consuming. For reasons of personal preference, consumers may choose to cook meat to higher temperatures.
Ground meats
Cook all raw ground beef, pork, lamb, and veal to an internal temperature of 160 °F as measured with a food thermometer.
Poultry
Cook all poultry to a safe minimum internal temperature of 165 °F as measured with a food thermometer.
Never partially grill meat or poultry and finish cooking later.