August is Antiterrorism Awareness Month for the U.S. Army, and this year U.S. Army Europe antiterrorism experts are asking members of the U.S. forces community in Europe to remain vigilant and learn to protect themselves in their fight against terror.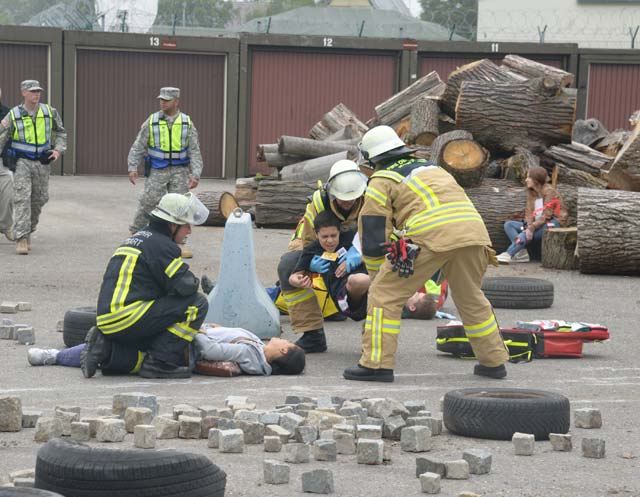 Terrorist attacks can and do happen in Europe. For example, in 2011 a
gunman opened fire on an American military bus at the Frankfurt Inter-national Airport, killing two U.S. Airmen and wounding two others.  This incident is what caused the limited wear of uniforms while off post.
Chemical attacks are still an active threat to be aware of.  On Aug. 21, 2013, in Syria, sarin gas was used in an attack on the Ghouta agricultural belt around Damascus. Though the death toll was difficult to establish, it estimated that the attack resulted in more than 1,300 deaths.
"If you wait for an attack to happen before you decide what to do, it's already too late," said Shay Edwards, the U.S. Army Garrison Stuttgart antiterrorism officer.
Antiterrorism experts recommend that one should always have a plan and know how to react in various situations.
Knowing how to shelter in place can help protect against chemical emergency and active shooter incidents.
How to prepare to shelter in place in case of a chemical emergency
• Choose a room in your house, apartment or workplace for the shelter. The best room to use for the shelter is a room with as few windows and doors as possible. A large room with a water supply is best—something like a master bedroom that is connected to a bathroom. For most chemical events, this room should be as high in the structure as possible to avoid vapors (gases) that sink.
• Build a shelter-in-place kit (five-gallon bucket, scissors, sheets of plastic for windows, duct tape, first aid kit, flashlight and radio) and keep it in the designated shelter-in-place room.
• Know how to turn off the heating, ventilation and air conditioning systems.
• Conduct rehearsals of how to shelter in place.

What to do in case of a chemical emergency
• Turn off HVAC system.
• Enter the shelter-in-place room and shut the door.
• Close and lock all windows and doors to prevent airflow into the room.  
• Tape plastic over any windows in the room. Use duct tape around the windows and doors and make an unbroken seal.
• Use the tape over any vents into the room and seal any electrical outlets or other openings.
• If unable to shelter in place, cover as much of your body as possible, especially your nose and mouth. 
• Wash any exposed part of your body with soap and water and seek medical attention as soon as possible.
• Call 112 (off base) or 114 (on base) when you're safe.
• Follow the instructions of local autho-rities and first responders.
Active shooter 
• Conduct rehearsals of how to re-spond to an active shooter.
• Remember Run-Hide-Fight.
• Run: Evacuate the area, if possible. If not, select a room with few windows and doors to shelter in place.
• Hide: Turn off all noise-making devices (TVs, radios) and lights. Make the room appear abandoned. Keep out of the shooter's view.
• Fight: Act aggressively and yell.  Throw items and improvise weapons to defend yourself against the aggressor.  
• Do not trap yourself.
• Have locks on the door/room.
• Use furniture to blockade the door.
• Silence your cell phone, hide behind large items, remain quiet and calm.
• Call 112 (off base) or 114 (on base) when you're safe
These are just a few of the many individual protective measures people can take. There are a wide range of re-sources available that offer many more.
For more tips and resources, visit the U.S. Army Europe website at www.eur.army.mil/vigilance and the USAREUR Antiterrorism Division's "Stay Safe" Facebook page at www.facebook.com/StaySafeAntiterrorism. To report suspi-
cious activity, go to www.eur.army.mil/eureport/ or contact the 66th Military Intelligence Detachment at 0162-296-7320.