By Col. Jason Condrey Commander,
U.S. Army Garrison Stuttgart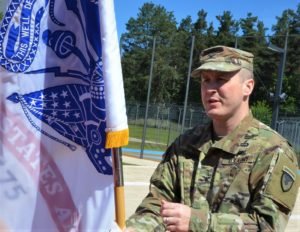 Looking back at the first six months of 2020, we can all say – without hesitation – that we could have hardly anticipated a microscopic adversary would become a storm that worked every day to capsize our world.
We've now reached a calm in the storm, allowing us to pause and reflect on the efforts made to shelter us during the crisis. The coronavirus challenged our garrison – a skilled team of adaptive professionals – in a way we could not have expected.  Our team members rose to that challenge.
Recently, Gen. Douglas Gabram, Installation Management Command's commander, spoke of the garrison's role as a strategic support area for those sent for-ward into harm's way.
Here in Stuttgart, we have two headquarters responsible for the lives of service members working on two continents. In that context, I clearly see our garrison's support as vital. It took a pandemic, however, to flip the narrative.
While we still have U.S. personnel in harm's way, in places like Afghanistan and Iraq, and working with partners on the African continent, the coronavirus came for us here. We instantly became a front-line garrison. Our families, our homes, and the places where we work were part of the fight – a struggle we quickly found we were not quite prepared for.
Before going to combat, an infantry battalion trains for a year. When the pandemic threw our garrison into COVID-19 operations, we had mere days to prepare. New reports trickled in. Garrisons in Korea and Italy locked down amid rising positive case numbers.
Suddenly, COVID was among us. What happened next amazed me. It still does.
I watched garrison staff, most of whom didn't know they would be in a fight, jump in and rise to the occasion. People volunteered to be a part of the response. The stakes were incredibly high, with a very visible cost for failure.
For months, I watched workers in our community face the coronavirus threat, knowing that they could come in contact with the illness and bring it home to their families. Yet, day in and day out, they persevered to support one another and this community.
Our hotel staff serves as an example. They could not close their operations. In fact, as we shuttered most on-post activities, we relied on hotel workers to care for service members, civilians and their families at a vulnerable point of transition. Our community's first COVID-19 cases surfaced at the hotels, forcing some staff to quarantine. We closed the Kelley Hotel and moved everyone to the Panzer Hotel. As weeks passed, and no one could come or go, the hotel staff remained caregivers for a "stuck" population.
Countless others did the same, in our public works department, childcare services, cashiers and more. There is nothing that I, nor anyone in the chain of command, could ever say to thank them in a way comparable to their level of commitment, dedication and energy.
I'm often thanked by community members for what's been done during this season of incredible change. But, the thanks really goes to the garrison team.
Fortunately, hard work and favorable conditions have helped us turn the tide against coronavirus. "I'm glad I live here," once just a nice slogan that we aspired to, has become our anchor.