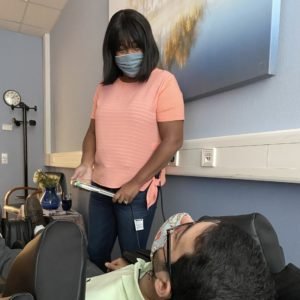 By Bardia Khajenoori
U.S. Army Garrison Stuttgart
Tucked away on the second floor of a nondescript office building on Panzer Kaserne lies an oasis of tranquility—or, referred to by its official name, the Resiliency Resource Room.
Painted in a relaxing two-tone blue, the room has natural light, relaxing music, and water bottles for hydration. The truly hidden gem, though, is a state-of-the-art massage chair that offers full body massage and stretch functions, as well as more targeted treatments. The best part? It's free to use and open to all community members.
"Since all of us have had such challenging times, we just wanted to offer a little stress relief," said Kim Roedl, Employee Assistance Program coordinator at U.S. Army Garrison Stuttgart. "Having the chair, having the room, the purpose is to provide a peaceful place to get away from it all."
A visit has noticeable impacts on clients.
Studies have shown that even short massages can have a significant impact on stress relief, as well as pain and muscle tension. But in the wake of the COVID-19 concerns relating to close contact with other individuals, not everyone feels comfortable going out to get one.
Measures are in place to ensure the safety of visitors to the room, Roedel said, adding that the chair is sanitized before and after every use and that the space is well-ventilated. An appointment system ensures that there is only one person in the room at a time.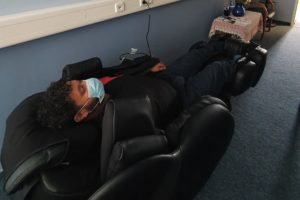 Dr. Kenyetta Thigpen, a teacher at Patch Middle School, is one of those who feels uncomfortable going out for the service and has been using the chair as an effective substitute for a pre-COVID massage routine.
"I was completely surprised and was not expecting the chair to be as great as it was," said Thigpen. "I feel like people in our community would feel more comfortable using the chair and the room simply because they know that there are certain protocols being followed," she said.
A visit has noticeable impacts on clients, said Roedel. "People will come in, and they're tired – not just physically, but also mentally tired. So when they go in and relax, even meditate during the massage, they come out refreshed and re-energized and want to know when they can come back again."
Appointments for visiting the Resiliency Resource Room, including the massage chair, can be made in 15 or 30-minute increments by calling the EAP coordinator at DSN 596-2530 or (0)9641-70-596-2530. Eligible beneficiaries include military members, civilians, contractors, family members, and retirees. ASAP is located on Panzer Kaserne, Bldg. 2948, second floor. Hours of operation are from 7:30 am to 4:30 pm Monday-Friday.