Story and photos by Rebecca Castellano, U.S. Army Garrison Stuttgart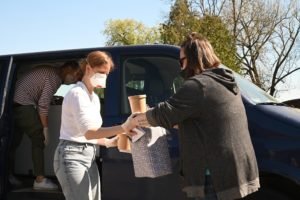 After nearly three years at U.S. Army Garrison Stuttgart, Michelle Quilon is due to PCS in June – travel that may not occur or get significantly delayed due to coronavirus restrictions. And when that departure finally arrives, the current physical distancing rules keeps goodbyes with friends, teachers, and coworkers at a distance.
After more than 45 days of restricted movement due to the global spread of COVID-19, there are many reasons to be frustrated, but Quilon said she chooses instead to focus on positives.
"We made Saturdays mandatory hiking day," said Quilon. "It's one of the things my family is going to miss the most over here, so it's been nice to get a few more trails in, as a family, before we leave."
U.S. Army Garrison Stuttgart's motto is "I'm glad I live here." With a diverse community of more than 20,000 living and working within its gates–and European adventures right outside–it's easy to see why.
Christy Jaeger's husband is mission essential and received a waiver to move recently to Stuttgart, despite the COVID-19 restrictions. Even with a waiver, they faced several obstacles on their journey over.
"The waiver allowed us to fly into Germany. But, we had to go through Amsterdam to get here and they wouldn't let us in," said Jaeger. "By the time they cleared it up at the airport, we had missed our flight."
After two missed flights and seven lost bags, the Jaegers arrived in Stuttgart to a 14-day mandatory quarantine in a hotel with few belongings. However, the Jaegers used their downtime to settle in, start learning about the German culture and language, and mapping areas to explore. They are excited to get to know the community, once their quarantine is over.
"People here have been very helpful through every stage of our move," Jaeger said. "Someone even brought us food and clothes for my kids because our suitcases were lost for a week. It made us feel welcome and less alone."
Stories like this fill Stuttgart community Facebook groups – where people support one another. Since the start of COVID-19, community members at USAG Stuttgart have volunteered to lend a hand to protect and support their neighbors.
Community member Melissa Stampfly strives to create a welcoming environment for everyone. Known at Robinson Barracks for organizing community events, Stampfly continues her efforts during the pandemic. Food truck Fridays, gelato deliveries, and even an Easter bunny visit were all events Stampfly supported.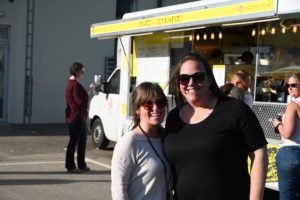 "Being able to still have these events is important because we are transitioning into a new normal," said Stampfly. "If we can keep some similarities from the years prior it will help ease that transition and remind our community members that they matter too."
Kimberly Phair, a Robinson Barracks resident, believes such events bring the community together.
"At a time when one day blends into the next, it's something everyone in the community could get excited about," Phair said.