Story and photo by Rebecca Castellano U.S. Army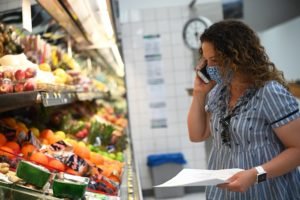 Garrison Stuttgart
STUTTGART – To protect high-risk community members from exposure to COVID-19, U.S. Army Garrison Stuttgart set up a volunteer shopper program April 17 at the Robinson Barracks commissary.
Single parents, high-risk individuals and anyone needing assistance can order, pay for and pick up their groceries without ever setting foot in the store. Mary O'Connell, a single mother with an autoimmune disease, was grateful to have a support channel that allowed her to get groceries in a safe way, she said.
"This program is so great for the community," O'Connell said. "My daughter does not have any other family to care for her if I get sick. I have a responsibility to stay healthy."
Charlene Schuler, Army Community Services coordinator and Army Volunteer Corps programs manager, said several organizations worked together to create the program, but community volunteers are the key to its success.
"The volunteer can select a two-hour window of time that they want to be available to shop," Schuler said. "Then, if a customer signs up, I get the notification and connect them with the volunteer who is on call so they can coordinate lists and times."
One of those volunteers, Susanna Wilkerson, signed up because she wanted to provide peace of mind to individuals who need help.
Wilkerson went shopping for O'Connell, calling her often to verify brands and options.
"The risk to me is minimal compared to the risk for a single parent taking their child in there," said Wilkerson, whose own son struggled with chronic lung disease as a young child. "If he was a baby- and still on oxygen, I would be so grateful to anyone who did this for me and I just want to provide that relief for someone else and keep them safe."
Curbside delivery will continue to be available as needed until the risk of exposure to COVID-19 is eliminated. In the meantime, Schuler hopes that everyone will spread the word to those in need.
"We can't assume that everyone has Facebook or easy access to the internet so we're relying also on word of mouth," said Schuler. "We need to get the news of this service out to those who can benefit from it most."
Curbside delivery is available at the Patch and Robinson commissaries. Download the USAG Stuttgart app and select the COVID-19 button to request a shopper or volunteer.
The exchange has also added a new curbside delivery option to their online shopping program. All authorized patrons can place their order online and select curbside as their pickup option. AAFES Director Mike Ryan advises customers to wait for the email that states their order is ready for pickup before driving to the store.
"Although the first message you receive after your order might say you can pick it up tomorrow, please wait until you receive a message from the store stating that your items are ready for pickup," said Ryan.
Once that email arrives, customers can park in the designated pickup zone near the entrance closest to the barber shop and call the phone number posted. This will connect them with a store associate who will deliver their goods to their car. Ryan said the program has seen early success.
"Seventy percent of online purchases since we started have chosen the curbside pickup option," said Ryan. "And this is great because it limits how many people are coming into the store."
Ryan and his team will strive to keep executing the process flawlessly.