By Bardia Khajenoori
U.S. Army Garrison Stuttgart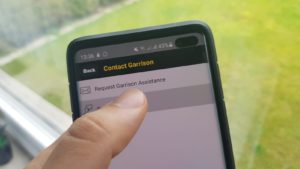 When there is something strange in your neighborhood, you may call Ghostbusters. But, when there is a pandemic afoot and you're not sure where to get tested, whether a service is open, or where to look for certain community information, you call the Garrison Assistance Team.
In mid-March, Col. Jason Condrey, commander of U.S. Army Garrison Stuttgart, established the team, known by its acronym "GAT," so community members had a place to come with their questions about COVID-19 during the height of the crisis, said Carrie McEnteer, chief of the garrison's Plans, Analysis, and Integration section, which oversees the team.
Full-time garrison employees drawn from around the organization provide seven-day-a-week, twelve-hour-a-day support to the community, "providing accurate and timely responses to our customers while maintaining a professional and caring demeanor during a time when members of our military community feel particularly vulnerable," McEnteer said.
The GAT maintains a list of the latest service updates readily available, she added, and reaches out to appropriate service owners and subject matter experts when they don't have answers at hand.
The GAT responded to over 800 individual customer emails and numerous phone calls in just six weeks after its inception. Many of these required a significant amount of research to obtain an answer, McEnteer said.
Stephan Roedel, records manager in the Directorate of Human Resources, was one of the first members of the team.
"It's sometimes challenging as there are questions or issues that are unprecedented and take some research to find an answer," Roedel said. "But we do get a lot of positive feedback from the community, which appreciates the service we provide to help them."
Roedel appreciates the opportunity to learn more about the military community, some aspects of which local national professionals may not be closely familiar, even after two-and-a-half years of garrison employment, he said. After all, local national staff like Roedel don't use the housing office, buy VAT forms, or register their vehicles on post.
"Getting these questions and issues gives me a broader picture on what it's like to live in the garrison and not just come to work here for eight hours a day," Roedel said.
Contact information for the GAT is available on the official garrison webpage, Stuttgart Citizen webpage, and on the USAG Stuttgart mobile app (through the COVID section, "Contact Garrison" button, "Request Garrison Assistance" option).