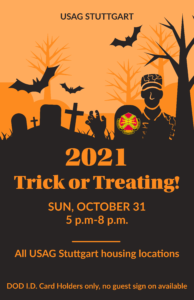 Story by Paul Hughes
USAG Stuttgart Public Affairs
After COVID forced a halloween hiatus in 2020, sugary excitement will once again fuel trick or treat activities around the garrison, Sunday, October 31, between 5 – 8 p.m.
Host nation COVID regulations limited gatherings of even small numbers of people in 2020. Due to ongoing vaccination efforts, 2021 sees the population and the garrison in a stronger position.
"I think this is a continued momentum to returning to normal," said Col. Matt Ziglar, USAG Stuttgart garrison commander. "Just like homecoming games or events, I think that children look forward to trick or treating every year and it is a good event for the community."
For safety, make sure costumes are easy to see in the dark. The event will be limited to DOD I.D Card holders only. There will be no guest sign on available for trick or treating. When social distancing cannot be maintained, unvaccinated community members (including children under 12) must wear a medical mask.