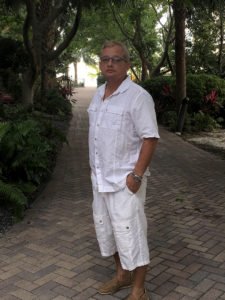 U.S. Army Garrison Stuttgart lost a teammate this month. Danny Sanders, an Operations Specialist with the S 3/5/7 passed away Oct. 31st. He was 52.
As a freshly-retired Army Sergeant Major, Danny brought competency and a matter-of-fact bluntness to garrison operations during his one-year tenure in Stuttgart. As a life-long servant-leader he carried with him a genuine passion to mentor and lead. No task couldn't be accomplished, and no question was too unimportant to answer. His love and dedication to his family led Danny to accept a new position in Fort Jackson, South Carolina, where he could be closer to home. He was slated to return to the United States this November.
"Danny was always there," said Joseph Edeigba, his coworker. "When I came to the S 3/5/7 he regarded me as teammate, he was tough on the outside, but truly sympathetic on the inside."
A Field Artilleryman for much of his 30-year-long military career, Danny spent more than 18 years overseas, including deployments to Iraq and Afghanistan.  For his actions during the 2003 invasion of Iraq, Danny was awarded the Bronze Star with Valor — America's fourth highest award for valor. In his citation, then-Sgt. 1st Class Danny Sanders, while assigned to Charlie Battery, 1st Battalion, 39th Field Artillery Regiment escorted a group Soldiers to safety with nothing but a mine probe and rifle after they had lost their vehicle in a minefield, dressed in full chemical protection gear, he later captured three key enemy combatants after swimming alone across a canal, additionally he assisted with the detention of 15 more enemy combatants, and toward the end of his deployment he led a firefight against an Iraqi artillery unit where he, himself, engaged the enemy with his 203 grenade launcher and handheld grenades.
[slideshow_deploy id='59096′]
Danny would later reach the highest levels of the Army's enlisted service, where he served as a Command Sergeant Major for the 1-84 FA Battalion, and as an Operations Sergeant Major for U.S. Army Japan, where he retired in 2017.
He is survived by his wife Jannice, daughter Kaci and two grandchildren Jadan, 2, and Kadan, 1.