By Marcus Fichtl
USAG Stuttgart Public Affairs
PANZER KASERNE, Germany — More than one-hundred names pierced the morning air in Stuttgart on the 20th Anniversary of the 9/11 terrorist attacks. 
The names were just a small portion of the 7,000 service members to have died in combat since the Twin Towers fell in New York. More importantly they were comrades-in-arms for the hundreds in attendance at the U.S. Army Garrison's and 1st Battalion, 10th Special Forces Group, 'The Originals' Run to Remember.
These individuals represent the best in us, and we must never forget their sacrifice," said the 1st Bn. 10th SFG(A) commander Lt. Col. Penn. "We can never say enough to thank our Gold Star families for the sacrifices they have made during this time."
Started in 2008 by 'The Original's' chaplain, the run was meant to commemorate those who had fallen in military actions across the globe since 9/11. Normally a July event, Saturday's 5k / Half Marathon coincided with a day of remembrance and community activities. It was also the first Run to Remember since 2019, due to health concerns from the coronavirus pandemic. 
At the end the run, participants would place a fallen service member's dog tag that they ran with onto a Soldiers Cross.
Lt. Col. Mike Harrell and his family placed four dogtags onto the cross.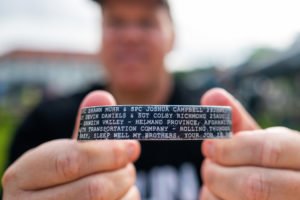 "It was a privilege to run today, four of the Soldiers names that were read today: Shawn Muhr, Devin Daniels, Colby Richmond and Joshua Campbell, were my Soldiers when I was a company commander," Harrel said. "This is something small that we can physically do, rather than just saying something to remember them."
The day finished in the Panzer Chapel, where children born after 9/11 joined veterans who had deployed to combat for a solemn wreath laying. 
A moment of tranquility the Green Beret's commander yearns for. 
"On Sept. 12, 2001, the streets were lined with American flags, people felt close to their neighbor no matter what their differences were… strive to bring us back to how we felt about each other that time," Penn said. "Honor our fallen and show them that the nation they died to protect will survive, and continue to be the best in the world."