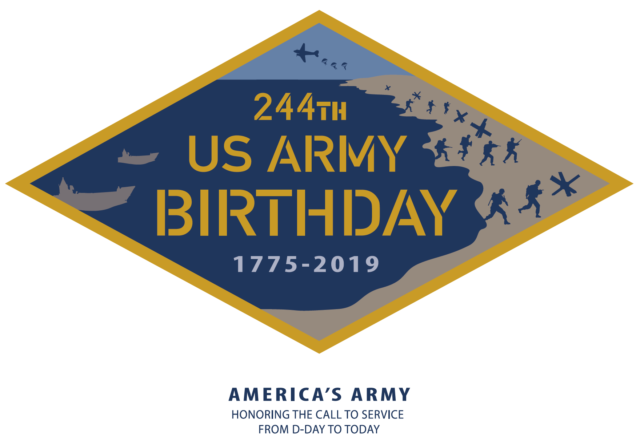 By Col. Catherine M. Black
US European Command
The Stuttgart Army community celebrated the Army's 244th birthday by commemorating the 75th Anniversary of D-Day and the liberation of Europe at the Movenpick Hotel, Stuttgart, June 1.
The evening's distinguished host, Maj. Gen. Todd McCaffrey, Chief of Staff, US Africa Command; Organization 1775–The Army Ball Committee; and the Association of the United States Army, provided the Stuttgart community with moving narratives of the D-Day invasion and the brave Soldiers who fought valiantly securing Europe and the free world from the clutches of tyranny.  The team brought history to life with tables and mementos themed after the cities liberated by American Soldiers of the "Greatest Generation," and by honoring prisoners of war, missing in action, and Medal of Honor recipients. The events of the evening told the story of very young, great Americans who set the stage for the rise of democracy and Western values in the face of a dictator.
In keeping with the theme of young Soldiers fighting for the freedom of the nation, the attendees were treated to perfect drill and ceremony by a color guard, and beautiful renditions of the Star Spangled Banner and the German national anthem performed by Stuttgart High School Stuttgart JROTC cadets.
Attendees were honored by the presence of retired Lt. Gen. Patricia McQuistion, who is no stranger to Germany.  McQuistion served as the commander of the 1st Theater Sustainment Command as global sustainment provider for multiple combat commands, retiring as the deputy commander of Army Materiel Command. She gave a solemn and inspiring presentation that captivated the audience, sharing her personal experience as a leader and sustainer in peace and at war for the world's most dynamic Army.  Most moving was her experience honoring fallen warriors at the Port Mortuary at Dover Delaware Air Force Base.  Her presentation brought home the importance of the Soldier who has stood as a guardian of freedom from tyranny from the days of the American Revolution to the present.  McQuistion currently serves the vice president of membership and meetings for AUSA.
No Stuttgart Army Birthday Ball would be complete without an awesome DJ, and Soldiers, Sailors, Airmen, and Marines showing off their moves.  From line dancing the Wobble, Cotton Eye Joe, the Cupid Shuffle and the Cha Cha Slide to Michael Jackson renditions, Soul Train lines and slow dancing to smooth grooves, many service members took the dance floor until the late hours of the night.
Thank you to the wonderful sponsors and the great men and women of the Stuttgart military community that volunteered their time and talents to make the occasion memorable.