By Geoffrey Morris
Stuttgart Citizen Volunteer
Throughout April, the sacrifices of military children are recognized and celebrated as a part of the Month of the Military Child. The "Military Brats" of Stuttgart High School wear their nickname with pride. Some of them so much so, that they intend to follow in the path of military service after graduation. 
Thirteen SHS Seniors have committed to joining the military through several different paths that include service academies, active-duty and reserve enlistments and reserve officer training corps (ROTC) programs across the country. 
Two of those promising future SHS alumni began their path to service long before graduation.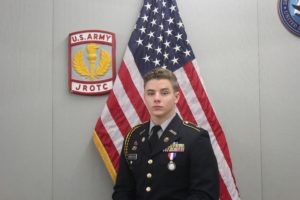 Jack Engelke 
"Desire, dedication, and discipline… not a lot of students take that to heart, but Jack's got it," said SHS Junior ROTC instructor Retired Lt. Col. Norm Matzke, when asked about his student, Jack Engelke.
The SHS senior has spent his life moving from duty station to duty station, and often country to country. Although many may consider the lifestyle of a military brat a hardship, the experiences he has gained have inspired Engelke to choose a path of military service after graduation. And his father's Air Force career made his choice to attend the Air Force academy in the fall an obvious one.
"My dad went to the Air Force Academy and would tell me about his time there," Engelke explained. "It sort of became the family college."
While the choice to serve was an easy one for Jack, the selection process to attend the esteemed Air Force Academy was not. The service academy is the most selective college or university in the state of Colorado, only admitting about 11 percent of those who apply. Out of 10,354 applicants last year, only 1,147 students were accepted according to collegesimply.com. Now that he has established himself as worthy to attend, Engelke's next goal is to "fly out of the Academy" and one day be an Air Force pilot. 
Though his ambitions are sky bound, he's planted his feet firmly on the ground and marching toward an engineering degree. His Robotics teacher, Herbert Silio, said his fascination for technology helped Engelke meet the standards for admission.
"He's really got a talent for programming and automation, and building too," said Silio.
In addition to requiring extremely high GPAs and test scores, the academy grades applicants on their character through their participation in school and community events. Engelke passed that portion of the application process easily with more than 100 hours of volunteer service and abundant participation in school programs, clubs and sports. 
But Engelke did not volunteer his time to gain admission anywhere. He says he did it "because it was the right thing to do."
Matzke, who was also the senior's teacher and wrestling coach, said the future military officer has a promising future in front of him.
"He is already a leader among his peers," said Matzke. "He's not destined, he's determined."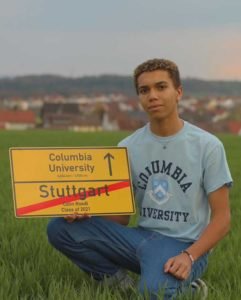 Kenneth Roedl 
As the student body president, a peer mentor, a JROTC candidate and a European PTA Student Representative, Kenneth Roedl has been hard at work preparing his resume for his future goals, which include civic service and, ultimately, an ambassadorship.
Roedl's AP Research Instructor, Danile Coapstick, said his student will make positive waves wherever he goes in life. 
"He's such a driven guy," he said. "A game changer who sees a rule and asks why it's there."
Roedl is already challenging the status quo through his Junior Science Humanities Symposium project this year. He studied the Depictions of Race on Reality TV and Streaming shows after he noticed a lack of diversity and representation while binge watching TV with his mom. 
"Growing up, I never felt truly represented on television," Roedl said, "there was no one that looked or acted like me." 
His project, which developed a scale to measure diversity across shows like the Amazing Race, Survivor and Big Brother, revealed some eye-opening statistics. Using a method now dubbed the Roedl Test, he applied three questions to each show: Are there at least two characters of color, do they have a storyline and are they alive and or present at the finale?
Roedl found an "unspoken rule among reality shows" that showed there were never more than 25 percent of the contestants who were people of color. Across every season of Amazing Race, Big Brother and Survivor, the only time this pattern was broken was during two seasons of Survivor, which were specifically designed to be ethnically diverse. 
Roedl's work earned him a 2nd place finish, an invite to the national competition and a $1,500 scholarship. But the cherry on top for Roedl was the chance to interview television producer Hanelle M. Culpepper, director of Picard.
"I really wanted to gain some insight on the lack of representation," he said. "The big takeaway was that Hollywood needs to take more risk with new faces. By using the same actors for every show or movie, it reinforces the lack of diversity instead of taking initiative to build resumes for actors of color."
 Vanderbilt took notice of Roedl's work and offered him a full-ride scholarship, with a research grant of $6,000, split between either political science or international affairs. But the prestigious school isn't the only one with their sights set on the SHS senior – Columbia University, University of California Berkeley, and Washington University in St. Louis also offered Roedl admission. 
Roedl intends to continue in the legacy of military service his family has built as a ROTC student at Columbia University. 
"Most of the men on my dad's side of the family served in a branch of the military, so it just feels like something I could do to give back to the country," he said of his plans to join the Air Force ROTC program wherever he goes. 
                 _______________________________
After SHS's graduations in June, 13 new alumni will head off to learn and develop their own leadership styles in hopes of one day replacing the title "military brat" with rank. But as they prepare to say goodbye to yet another home, both Roedl and Engelke said they will lean on their experiences as military youth to face whatever obstacles stand in their way to the top.
"Experiences that would've been impossible without the military brat lifestyle," said Roedl.  "Being able to see different ways of life, having the opportunity to live and to learn across the world… it's simply unparalleled."